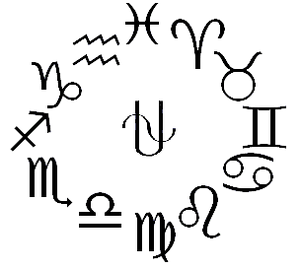 Write the text of your article here!
Aries
Aries (♈) (アリエス, Ariesu) is Ram-headed leader of Zodiac Force.
Taurus
Taurus (♉) (タウラス, Taurasu) is a bull forced to defeat Taurus Bulba and save St. Canard.
Gemini twins
The Gemini Twins (♊) (ジェミニ双子, Jemini futago) are two human twins named Castor (カストール, Kastōru) and Pollux (ポルックス, Porukkusu) with two powers each.
Cancer
Cancer (♋) (キャンサー, Kyansā) is a crab who can spread cancer to terrorists.
Leo
Leo (♌) (レオ, Reo) is a lion with sound. His lion cub son is Leo Minor.
Virgo
Virgo (♍) (バルゴ, Barugo) is a human woman with the power of wood and ice.
Libra
Libra (♎) (ライブラ, Raibura) is a giant stone robot with the power of metal.
Scorpio
Scorpio (♏) (スコーピオ, Sukōpio) is a scorpion, friendly to the heroes, unfriendly to the villains.
Sagittarius
Sagittarius (♐) (サジタリアス, Sajitariasu) is an archer with the power of sand.
Capricornus
Capricornus (♑) (カプリコーヌス, Kapurikōnusu) is a goat who is sometimes called Capricorn (カプリコーン, Kapurikōn).
Aquarius
Aquarius (♒) (アクエリアス, Akueriasu) is a robot with the water power.
Pisces
Pisces (♓) (ピスケス, Pisukesu) is a human diver.
Ophiuchus
Ophiuchus (オピュクス, Opyukusu) is a wasp with the sting of power.
Ad blocker interference detected!
Wikia is a free-to-use site that makes money from advertising. We have a modified experience for viewers using ad blockers

Wikia is not accessible if you've made further modifications. Remove the custom ad blocker rule(s) and the page will load as expected.