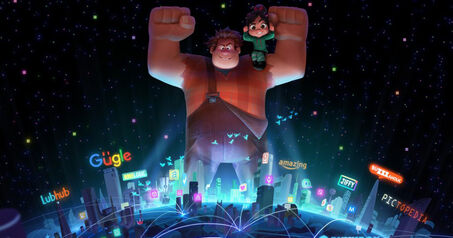 It is a upcoming sequel to
Wreck-it Ralph
. It happens 2 years after first movie.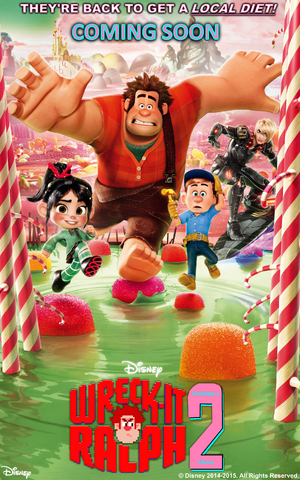 Date (Good News)
November 21, 2018 (United States)
From on June 30, 2016.
Synopsis
Litwak's Arcade, renaming itself Bayson's Arcade, is having a grand re-opening after Mr. Bayson bought in stuff that let's you try out the Wii U, the PS4, Every Console game and Handheld game and PC game and Online game and Virtual reality and Arcade game and More Arcade game, the Nintendo Switch and even More Arcade Game and Mobile Game and Toy and Watch Movie theatres and TV Show and Animation Like Cartoon and Anime and Cgi and Stop Motion and Read Book and Novels and Comic books and Manga and Magazine and Watch and Play Sports and eSports and Have Fun and Play at Theme Park and Laser tag and Carnival rides and Water Park and Ball pits and Kiddie ride and Bouncy Castle and Mini Golf and Kart racing and Music and Dancing and Bowling and Event and Snack Bar and Fast food and Brand New PS5 and Xbox Two and the Xbox One (similar to the ones you'd see at shopping stores.) after Mr. Litwak retires. This gives enough time for the characters to get to know each other only for two weeks until the grand reopening starts.
Plot
The movie starts in Sugar Rush. Taffyta and Vanellope are racing each other. "Hey, it's Mario", Vanellope shouts as she spots Mario. "Hi, my name is---", Vanellope and Taffyta say together. "Oh Sorry, you go first", they continue. "My name is Mario", Mario says. "Princess Peach, Rosalina, Yoshi, Luigi, Toad and me just moved in with their new game!" "Where's Luigi?", Taffyla asks. "He's busy", Mario answers. An evil Emperor Drakonus wants to take over any game whatever he wants and King Candy revived himself as the Cybug. After that, in the game central station, there was a new character named Groupy from Groupy. However, a Cy-Bug assassin by the name of Tri-Bug emerges.in fix it felix junior Ralph and Felix are going to tabers until seargeant Calhoun tell them that the cyborgs are back again and taking over sugar rush again will Ralph and the gang save the day
Characters
Main Characters
Wreck-It Ralph
Fix-It Felix, Jr.
Vanellope Von schweetz
Sergeant Calhoun
Darn-It Daniel
Help-It Harold
Mayor Gene
Nicelanders (Mary, Deanna, Roy, Nolan, Don, Nell, J. Norwood, Lucy, Louie, Meg, various unnamed extras)
Q*Bert
Coily
Sam
Slick
Ugg
Markowski
Gen. Hologram
Troops
FPS TV robot avatar
Cy-Bugs
Taffyta Muttonfudge
Rancis Fluggerbutter
Candlehead
Jubileena Bing-Bing
Crumbelina DiCaramello
Snowanna Rainbeau
Gloyd Orangeboar
Swizz Malarkey
Adorabeezle Winterpop
Minty Zaki
Citrusella Flugpucker (blue Jubileena)
Sticky Whipplesnit (teal Minty)
Torvald Batterbutter (brown Minty)
Nougatsia Bramblestein (pink Adorabeezle)
Sour Bill
Wynchel and Duncan
Beardpapa
Claw Officers and Devil Dogs
Oreo cookie guards
Marshmallows
audience
Surge Protector
Riku
Terra
Aqua
Ventus
Kairi
Xehanort
Heartless
Swampy
Cranky
Allie
Karl
Pushy and Shovey
Rubber Ducks.
Groupy
Crash
Becky
Construction-Kate
Cloud
Lighting
Sora
Rayman
Super Mario
Midna/human version
Super Luigi
Princess Peach
Yoshi
Toad
Rosalina
Ratchet and Clank
Jak and Daxter
Link
Zelda/Sheik
Samus Aran
Pac-Man
Sonic the Hedgehog
Sonia the Hedgehog
Manic the Hedgehog
Queen Aleena the Hedgehog
Tails
Knuckles the Echidna
Amy Rose
Cream the Rabbit
Shadow the Hedgehog
Rouge the Bat
Honey the Cat
Tikal the Echidna
Sliver the Hedgehog
Blaze the Cat
Jet the Hawk
diveclops and splat
Lucina
Kirby
Fox McCloud
Krystal
Sonya Blade
Johnny Cage
Jax
Liu Kang
Raiden
Kitana
Jade
Kung Lao
Scorpion
Sub-Zero
Pikachu
Sakura Shinguji
Bayonetta
Sarah Bryant
Jill Valentine
Chris Redfield
Morrigan Aensland
Felicia
Jin Kazama
Ling Xiaoyu
Master Chief
Spitfire stormblade and supercharged friends
Bravenwolf Tenkai Firestorm
Tributon Tenkai Iceblast
Valorn Tenkai Terrablast
Lydendor Tenkai Lightningstrike
Dromus Tenkai Whirlwind
Mickey Mouse
Minnie-Mouse
Donald Duck
Goofy
Numerous other video game characters
Toejam & Earl
Inklings
The Squid Sisters
Wild Woody
Hatsune Miku (From Project Diva)
Kagamine Rin And Len
MEIKO
KAITO
Megurine Luka
Bad-Annon Support Group
The group has been expanded to new villains
Bowser
Blinky
Pinky
Inky
Clyde
Metal Sonic
Dr. Eggman
Chaos
M. Bison
Neff
Dural
Kano
Shao Khan
Quan Chi
Shinnok
Shang Tsung
Goro
Cyril the Zombie
Saitine
Mishaela the Sorceress
Chaz
Coily
Zangief
Beholder
Ganondorf
Vladimir Makarov
Doppelganger (from Scribblenauts)
The Brickster (from Lego Island)
Heihachi Mishima
Colonel Radec
Baron Praxis
Krimzon Guard
Dr. Nefarious
Lawrence
Mordroc
Vilius
Varzorious
Darkstruction
Marx (Kirby)
Doopliss
Bonanza Brothers
Other Characters
Arbiter
Phone Guy
Eggs Benedict (Five Nights at Freddy's: Sister Location, real name: Michael)
Jeremy Fitzgerald
Fritz Smith
Mike Schmidt
The Child (Five Nights at Freddy's 4)
HandUnit (Five Nights at Freddy's: Sister Location)
Springtrap
Phantom Freddy
Phantom Chica
Phantom Foxy
Phantom Mangle
Phantom Balloon Boy
Phantom Puppet
Nightmare (Five Nights at Freddy's 4)
Nightmarionne
Circus Baby
Ballora
Bidybabs
Minireenas
Funtime Freddy
Funtime Foxy
Ennard
Yenndo (Five Nights at Freddy's: Sister Location)
Bonnet (Five Nights at Freddy's: Sister Location)
Electrobab (Five Nights at Freddy's: Sister Location)
Lolbit (Five Nights at Freddy's: Sister Location)
pussinbootslolol from Roblox
The Follower - 123 Slaughter Me Street
The Greeter - 123 Slaughter Me Street
The Waiter - 123 Slaughter Me Street
The Seeker - 123 Slaughter Me Street 2
The Greeter (Revenge) - 123 Slaughter Me Street 2
The Screamer - 123 Slaughter Me Street 2
The Nightmare - 123 Slaughter Me Street 2
Disney
Maximus (generic horse)
Tiny the T. rex (generic dinosaur)
Bolt (generic dog)
Viking Thugs
Olaf
Baymax
TRON
lightcycles
Scrooge McDuck
Beagle Boys
Perry the Platypus.
Pixar
Nemo
Dory
Hal the cockroach
Lightning McQueen
Francesco Bernoulli
Carla Veloso
Shu Todoroki
Dusty Crophopper
Skipper Riley
Echo and Bravo
Blade Ranger
Muppets
Marvel
Iron Man
Thor
Incredible Hulk
Capt. America
Spider-Man
Wolverine
Rocket Raccoon and Groot
Nick Fury.
Star Wars
Darth Vader
C3PO
R2D2
stormtroopers
Yoda.
Nintendo
Mario
Luigi
Princess Peach
Rosalina
Bowser
Waluigi
Yoshi
Wak
Ness
Ninten
Lucas
Link
Zelda/Sheik
Dark Zelda/Dark Sheik
Ganondorf
Donkey Kong
Diddy Kong
King K'Rool
Waluigi
Fox McCloud
Flaco Lombardi
Krystal
Meta Knight
King Dedede
Escargoon
Samus Aran
Balloon Fighter
Pikachu
Bubbles (Clu Clu Land)
Duck Hunt Dog and Duck
Marth
Lucina
Ike
Wii U Boy (NES Remix 3)
Captain Falcon
Samurai Goroh
Tomagon (Demon Run's Insparation for Yoshi.)
Luma
Toads
Blue and Yellow Toads
Capt. Toad, and Toad Brigade)
Birdo
Princess Daisy (modified Anna from Frozen)
Boom Boom and Pom Pom
Koopalings (Larry, Morton Jr. Wendy O. Iggy, Roy, Lemmy, and Ludwig von.)
King Bob-Omb
Whomp King
Prof. E. Gadd
King Boo
Polterpup
Ghosts
Piantas
Nokis
Petey Piranha
Gooper Blooper
Lumas (Yellow, green, pink, blue, red, Master Luma (apricot)
Polari(brown, debatable)
Costar (orange)
Lumalee (turquoise)
Hungry Luma
Lumacomete (purple), and Lubba)
Dino Piranha
Gobblegut
Nabbit
Sprixie Princesses
Plessie
Wingo
Geno
Paper Mario
Paper Luigi
Paper Peach
Paper Bowser
Paper Wigglers
Kersti
Count Bleck
Dimentio
Shadow Queen
Cackletta
Fawful
Popple
Shroobs
Starlow
Midbus
Antasma
Goombas (Paragoombas, Grand Goombas, and Galoombas)
Koopa Troopas (green and red)
Koopa Paratroopas (green and red)
Dry Bones
Piranha Plants (and Venus Fire Traps)
Buzzy Beetles (Parabeetles, Bony Beetles, and Spike Tops)
Lakitu and Spinies
Bullet Bills (Banzai Bills and Torpedo Teds)
Hammer Bros. (Boomerang Bros., Fire Bros., Sledgehammer Bros., and Sumo Bros.)
Cheep Cheeps (Deep Cheeps, Eep Cheeps, Blurps, and Cheep Chomps)
Bloopers
Lava Bubbles
Firebars
Shy Guys (red, blue, pink, yellow, green, black, white, Snifits and Fly Guys)
Pokeys
Bob-ombs
Spikes
Thwomps (Whomps and Thwimps)
Boos (and Big Boos)
The Angry Sun
Wiggler
Chargin' Chucks
Fuzzies
Monty Moles
Dolphins
Rexes
Fishbones
Blaargs (normal variant resembling the Yoshi design, Magmaarghs, Chavaarghs, and Sandmaarghs)
Mad Piano
Cataquacks
Octoombas
Topmen
Huckit Crabs
Peepas
Stingbies
Biddybuds (and Para-Biddybuds)
Waddlewings
Flipruses
Ant Troopers
Skipsqueaks
Yoshi (red, blue, yellow, orange, purple, pink, cyan, brown, black, and white)
Kamek (Magikoopa)
Stork
Baby Mario
Baby Luigi
Baby Peach.
Wario
Mona
Kat and Ana
Young Cricket and Master Mantis
Ashley and Red
9-Volt
18-Volt
Dixie Kong
Tiny Kong
Cranky Kong
Funky Kong
Candy Kong
Lanky Kong
Wrinkly Kong
Pauline
Kremling
Enguarde
Rambi
Squawks
Square Enix
Geno
Cloud
Lighting
Arieth
Sora
Sephiroth
Agent 47
Lara Croft
Wii U Boy (Dark Secrets)
Ubisoft
Connor Kenway
Edward Kenway
Ezio Auditorie de Firenze
Altair
Arno Dorian
Sam Fisher
Rayman
Rabbids
Globox
Prince of Persia
Wii U Boy (Just Dance Wii U Boy 2: City of Ash)
2K Games
Vito Scaletta
Joe Barbaro
Big Daddy
Wii U Boy (Parachute Freak)
Rockstar
John Marston
Jack Marston
Leigh Johnson
Eli & Jonah
Carl Johnson
Bonnie McFarlane
Abigail Marston
Cole Phelps
Hershall Biggs
Rusty Galloway
Stefan Bekowski
Elsa Lichtmann
Roy Earle
Max Payne
Michael De Santa
Trevor Phillips
Franklin Clinton
Jimmy De Santa
Amanda De Santa
Tracey De Santa
Lamar Davis
Lester
Wade
Ron
Wii U Boy (GTA VI mod)
Sega
Sonic the Hedgehog
Sonia the Hedgehog
Manic the Hedgehog
Queen Aleena the Hedgehog
Tails
Nazo the Hedgehog
Knuckles the Echidna
Amy Rose
Sliver the Hedgehog
Shadow the Hedgehog
Shadic The Hedgehog
Rogue the Bat
Blaze the Cat
Big the Cat
Cream the Rabbit & Cheese Chao
Vector the Crocodile
Espio the Chameleon
Charmy Bee
Marine the Raccoon
Bean the Dynamite
Bark the Polar Bear
Fang the Sniper/Nack the Weasel
Mighty the Armadillo
Ray the Flying Squirrel
Chaos
Tikal the Echidna
Jet the Hawk
Honey the Cat
Sticks the Badger
Metal Sonic
Dr. Eggman
NIGHTS
Akira Yuki
Jacky Bryant
Sarah Bryant
Kage-Maru
Pai Chan
Dural
Alex Kidd
Neff
Bayonetta
Hatsune Miku
Mishaela the Sorceress
Sakura Shinguji
Alicia Melchiott
Selvaria Bles
AiAi, MeeMee, Baby, GonGon, Doctor, YanYan, and Jam (Super Monkey Ball)
Wii U Boy (Sonic All-Star Sega Racing 3)
Bonanza Brothers
Toejam & Earl
Wild Woody
Billy Hatcher
Alex Kidd
Atari
The characters from SwordQuest
Pong paddles
Pong ball
Atari joystick
Roadblasters racer
Roadburners racers
Godzilla
King Ghidorah
Wii U Boy (Jaguar in the Night)
Capcom
Megaman
Zero
Willy
Ryu
Bison
Ken
Chun-Li
Phoenix Wright
Maya Fey
Miles Edgeworth
Morrigan Aensland
Felicia
Zangief
Jill Valentine
Chris Redfield
Crazy Wii U Boy
X
Taito
Zac
Mel
Jack 'O Colson
Tiki the Kiwi
Phee-Phee the Kiwi
An alien from space invaders
Bubblun, Bobblun, Kululun, and Cororon
Chack'n
Miss Chack'n
Blaze Wii U Boy (from the Japanese dub of Fire Age)
Bluth Group
Dirk the Daring
Princess Daphne
Ace (changes into Dexter at some points of the movie)
Wii U Boy (WingWorld)
Midway
Kano
Smoke
Raiden
Sonya Blade
Scorpion
Sub-Zero
Shao Khan
Raiden
Liu Kang
Jax
Kitana
Mileena
Kung Lao
Jade
Cyrax
Sektor
Reptile
Ermac
Quan Chi
Shinnok
Shang Tsung
Goro
Johnny Cage
Paperboy
Bartender
Wii U Boy (with Wii U Huyara)
Namco
Pac-Man
Ms. Pac-Man
Clyde
Inky
Blinky
Pinky
Klonoa
Jin Kazama
Kazuya Mishima
Paul Phoenix
Marshall Law
Nina Williams
Ling Xiaoyu
Alisa Bosconovitch
Heihachi Mishima
Sue
Taizo
A Pooka
A Fygar
Skiers from Alpine Racer 2
Pac-Wii U Boy
Mappy
Gottlieb
Q*bert
Coily
Slick
Ugg
Sam
Wii U Boomstick
Konami
Frogger
Bill Rizer
Lance Bean
Afro
Christina "Lady" Azcona
Dread Snake
Janet Lyze
Tracy Lyze
Yuni Verse
Solid Snake
Wii U Boy (Anime 2)
Data East
Peter Pepper
Cyber Wii U Boy
Blizzard North
Satine
Wii U Boy (Flurry Blizvalanche)
Mojang
Steve
Herobrine
Alex
Creeper
Zombie
Enderman
Enderdragon
NPC Villager
Wii U Boy (Minecraft Skin)
entiy303
Playstation
Ratchet
Clank
Captain Qwark
Dr. Nefarious: New member of the Bad-Anon support group
Lawrence
Jak
Daxter
Baron Praxis
Krimzon Guard
Sly Cooper
Bentley
Murray
Carmelita Fox
PaRappa the Rapper
Wii U Boy (Destiny)
Naughty Dog
Jak
Daxter
Crash Bandicoot
Neo Cortex
Metalhead
Nathan Drake
Elena Fisher
Sully
Tommy Duff (Naughty Duffy)
Harmonic Vision (Music Ace)
Maestro Max: Conductor of the Game Theater orchestra pit
Retro Wii U Boy
PopCap
Crazy Dave
Dr. Zomboss
Sunflower
Peashooter
Chomper
Cactus
Foot Solider
Engineer
Scientest
All-Star Zombie
Kernel Corn
Citron
Rose
Captain Dreadbeard
SuperBrainz
Imp
Voice Cast
John C. Reilly as Wreck-It Ralph
Sarah Silverman as Vanellope von Schweetz
Jack McBrayer as Fix-It Felix, Jr.
Jane Lynch as Sergeant Calhoun
Bret Iwan as Mickey Mouse
Tony Anselmo as Donald Duck
Bill Farmer as Goofy
Laurence Fishburne as Tri-Bug
Lucien Dodge as Nello (Maranello Olivia Sherman)
Jack Black as Darn-It Daniel
Tara Strong as Zac and Mel, Bowser Jr. from the Mario series, Sonia The Hedgehog from Sonic The Hedgehog, and Bailey from Line Rider
Charles Martinet as Mario and Luigi
Jason Griffith as Sonic the Hedgehog, Manic the Hedgehog, Shadow the Hedgehog, Scorpion, Sub-Zero, Johnny Cage, Reptile, Ermac, Smoke, Raiden, Kung Lao, Liu Kang,
Chris Colfer as Jet the Hawk
Mike Pollock as Doctor Eggman from Sonic the Hedgehog
Dee Bradley Baker as Steve from Minecraft
Raymond Persi as Mayor Gene, a Nicelander who lives within the game Fix-It Felix, Jr., and a zombie
Grant Goodeve as Arte Fact, and Dr. Quincy Quack from Webkinz, and Wolf from Star Fox.
Makiko Ohmoto as Kirby
Jesse Wayans as Megaman
Kazumi Totaka as Yoshi from Yoshi, and Mario series
James Arnold Taylor as Ratchet from Ratchet & Clank
David Kaye as Clank from Ratchet & Clank
Jim Ward as Captain Qwark
Tom Kenny as Gary the Gadget Guy, Orange Puffle from Club Penguin, Bosh from Line Rider and Flain
Reuben Langdon as Dragonborg/B-Fighter Yanma and Ken Masters from Street Fighter
Fred Tatasciore as Chaz from Line Rider
Ted Lewis as King Dedede from Kirby
Eric Stuart as Meta Knight from Kirby
Erika Fong as Karshasa from Tiny Castle, Canidragon from Dragonadopters
Peter New as Cyno from Tiny Castle
Kenny James as Bowser from Super Mario Bros.
Alesia Glidewell as Krystal from Star Fox
Toby Bluth as Borf from Space Ace
Lorna Pomeroy-Cook as Officer Kimberly form Space Ace
Vera Lanpher-Pacheco as Princess Daphne from Dragon's Lair
Matthew Patrick Dodd as Tails from Sonic the Hedgehog
Cindy Robinson as Amy Rose from Sonic The Hedgehog, Sonya Blade from Mortal Kombat, Sarah Bryant from Virtua Fighter, Bayonetta from Bayonetta
Ashly Burch as Cream the Rabbit, Marine the Raccoon, Honey the Cat, Rouge the Bat, Tikal the Echidna from Sonic the Hedgehog, Kitana, Jade, Mileena from Mortal Kombat, Jill Valentine, from Resident Evil, Morrigan Aensland, Felicia from Darkstalkers
Rich Moore as Zangeif from Street Fighter
Erin Mathews as Pac-Man
Dane Boedigheimer as Blinky, Pinky, Inky from Pac-Man, Orange
Kevin Deters as Clyde from Pac-Man
Laura Bailey as Blaze the Cat from Sonic the Hedgehog, Lucina from Fire Emblem Awakening
Grey DeLisle Griffin as Chun-Li from Street Fighter
Bernard Derriman as Kano from Mortal Kombat
Martin Jarvis as Saitine from Satan's Hollow
Andrea Libman as Misheala from Shining Force
Gerald C. Rivers as M. Bison from Street Fighter
Maurice LaMarche as the Bartender from Root Beer Tapper's
China Yokoyama as Sakura Shinguji
Sean Pertwee as Colonel Radec from Killzone
Armin Shimerman as Dr. Nefarious from Ratchet & Clank
Tommy Duff as all Wii U Boys
Steven Ogg as Trevor Phillips
Ned Luke as Michael De Santa
Shawn "Solo" Fonteno as Franklin Clinton
Adam Sandler as Captain Falcon
Steve Zahn as Samurai Goroh
Mike Erwin as Jak
Max Cassella as Daxter
Clancy Brown as Baron Praxis
Phil LaMarr as Crimson Guard, Jax
Robin Atkin Downes as Prince of Persia
Danny McBride And Seth Rogan As The Bonanza Brothers
Scott Cawthon as Phone Guy
Andy Field as HandUnit
Heather Masters as Circus Baby
Zehra Jane Naqvi as Bidybab
Michella Ross as Ballora
Kellen Goff as Funtime Freddy
Mike Myers as Wonderboy
Soundtrack
Track Listing
This Musics is in Spanish and English (Cumbia, Pop, Rock and Roll, Etc)
(All tracks composed by Thomas Newman unless specified otherwise)
| # | Title | Length |
| --- | --- | --- |
| 1 | A New Day Forever | |
| 2 | Ralph Breaks Internet (Main Title) | |
| 3 | Ryu's Birthday | |
| 4 | Central Videogames Grand 2 Theme | |
| 5 | Rap Song | |
| 6 | Wonderboy | |
| 7 | RoadBlasters Cars in the Central Videogames Grand | |
| 8 | Megaman | |
| 9 | Rock And Roll Song | |
| 10 | Crash Bandicoot and Jak And Daxter | |
| 11 | Boulder Chase | |
| 12 | Manny, Sid And Diego Begins | |
| 13 | Finding Vanellope | |
| 14 | NES Remix 3 | |
| 15 | Frogger | |
| 16 | NBA Jam theme | |
| 17 | Flashback Theme | |
| 18 | Racing Birds!/Meet Blu, Jewel, Bia, Carla and Tiago | |
| 19 | Meet Wallace and Gromit | |
| 20 | Kick it Pro | |
| 21 | Tafftyta Sobbing | |
| 22 | Pop Song | |
| 23 | Whack A Mole | |
| 24 | Return Turbo | |
| 25 | Return Mario And Friends | |
| 26 | Gang Ralph, Vanellope, Fix it felix and Calhour | |
| 27 | Meet Ferdinand | |
| 28 | Meet the Toons | |
| 29 | Nightmare Ralph | |
| 30 | Aliens is Comming!!! | |
| 31 | Littlest Pet Shop Pets | |
| 32 | Vanellope's Plan | |
| 33 | Turbo battle | |
| 34 | Jak's Death | |
| 35 | Ralph Shoots Turbo | |
| 36 | Jake He came back | |
| 37 | Ralph Partys | |
| 38 | DJ Skrillex | 1:56 |
| 39 | Ralph Breaks Internet Credits Suite | 6:15 |
| 40 | DJ Skrillex (Sung by everyone) | Songs |
Songs
Enrique Iglesias - SUBEME LA RADIO ft. Descemer Bueno, Zion & Lennox
Fuiste - Gilda
Spiderman theme
Tarzan Boy - Baltimora
Teenage Mutant Ninja Turtles theme 2016's (Credits)
more comming Soon
Transcript
Ad blocker interference detected!
Wikia is a free-to-use site that makes money from advertising. We have a modified experience for viewers using ad blockers

Wikia is not accessible if you've made further modifications. Remove the custom ad blocker rule(s) and the page will load as expected.