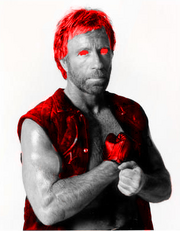 Characters:
Dio Brando
Don Kee
Sheela & Gale
Ledgic
Zoonama
Mutchy Mutchy
Dolltaki
Luud
General Rilldo
Nezi
Natt
Ribet
Bizu
Dr Myuu
Baby (GT)
Super 17
Haze Shenron
Rage Shenron
Oceanus Shenron
Naturon Shenron
Nuova Shenron
Eis Shenron
Syn Shenron
IT (Stephen King)
Freddy Krueger
The Creeper (Jeepers Creepers)
Kayako Saeki
Jaws (Shark)
Urien (Street Fighter 3)
Gill (Street Fighter 3)
Daken
Nemesis (Resident Evil)
Slender Man
Pinhead
Edgar the Bug
The Tall Man
Chucky
Jason Voorhees
Leatherface
Ghostface
The Angry Princess
The Bound Woman
The Dire Mother
The First Born Son
The Great Child
The Hammer
The Jackal
The Juggernaut
The Pilgrimess
The Torso
The Withered Lover
The Irate Gamer
Djinn (Wishmaster)
Eyedol
Green Goblin
Hobgoblin
Doctor Octopus
Black Doom
Kano
Goro
Reptile
Baraka
Mileena
Kintaro
Smoke
Noob Saibot
Motaro
Sheeva
Sindel
Ermac
Kabal
Sektor
Rain
Chameleon
Reiko
Jarek
Tanya
Drahmin
Frost
Hsu Hao
Mavado
Moloch
Kobra
Kira
Havik
Hotaru
Daegon
Skarlet
Shang Tsung
Shao Kahn
Quan Chi
Shinnok
Onaga
Dark Kahn
Scanty and Kneesocks
Shadow Labrys
Mephiles the Dark
Dr. Two-Brains
Grant
Igniz
Krizalid
Clone Zero
Original Zero
Mukai
Rugal Bernstein
Saiki (Human)
Adolf Hitler (Downfall)
Death Jester
Chuck the Evil Sandwich Making Guy
Denzel Crocker
Keito
Kuyou
Frieza
Perfect Cell
Super Buu
Goenitz
Neo Dio
King Leo
Goodman
Mizuchi
Bowser
King Boo
Dr Gero
Scorpion
Blackheart
Mephisto
Dry Bowser
Bowser Jr
Cutman
Gutsman
Elecman
Iceman
Bombman
Fireman
Dr Wily
Corset
Toon Wily
Toon Bison
Darth Vader
Akuma
Shin Akuma
Ultimate Rugal
Giga Bowser
Dr Robotnik
I.M Meen
Darkseid
Wild Iori
Wild Leona
Neo Geegus
General Grievous
Magaki
Omega Rugal
Nameless
Orochi Chris
Orochi Shermie
Orochi Yashiro
Frollo
Gaston
Plankton
Metal Sonic
Silver Sonic
Mecha Sonic
EggRobo
Mecha Knuckles
Metal Sonic 3.0
Darth Maul
Shadow Mario
02
Dark Matter
Xerxes
Jyazu
Silber
Shion
Weegee
Malleo
Marreoh
Fortran
Ragamiicho
Garbon
Boracuubi
Guiyii
Awesome Face Devil
Yellow Devil
Trollface Devil
Kouryu
Albert Wesker
Bane
Devil Jin
Otto Gunsche (Downfall)
Joseph Goebbels (Downfall)
Alfred Jodl (Downfall)
Wilhelm Burgdorf (Downfall)
Magda Goebbels (Downfall)
Tails Doll
Hades (Hercules)
Jafar
AUTO
Emperor Zurg
Bass (Megaman)
Skeletor
Aku
Vlad Plasimus
HIM
Fuzzy Lumpkins
Walker (Danny Phantom)
The Shredder
Davy Jones
Voldemort
Discord
Starscream
The Trix
Doctor Doofenshmirtz
Dormammu
Thanos
Brad Buttowski
Wario
Waluigi
Adelheid Bernstein
Ansem
Fliqpy
GLaDOS
Abobo (Double Dragon)
Dark Samus
Kusanagi
Dracula (Castlevania)
Alucard (Castlevania)
Yagami Team
Pyramid Head
Lexeaus
Vanitas
Dark Oak
Satan
Agent Smith
Agent Jones
Agent Brown
Agent Jackson
Agent Johnson
Agent Thompson
Cypher
Dr Nefarious
Broly
Bogmire
Boolossus
Gargos
G-Man
Xigbar
Master Xehanort
Xemnas
Dr Neo Cortex
Crossbones
Hollow Ichigo
Foop
T-1000 (T2)
Sephiroth
Ogre (Tekken)
Unknown (Tekken)
Fawful
Jazz
Smile Dog
Jeff The Killer
Herobrine
Jason X
Kylo Ren
Neo Metal Sonic
Count Orlok
Erik (The Phantom of the Opera)
Mecha Shrek
Freddy Fazbear
Bonnie the Bunny
Chica the Chicken
Foxy the Pirate Fox
Mangle
Springtrap
Purple Guy (FNAF)
Gwynplaine
Dracula
The Wolf Man
The Invisible Man
Giegue
Smile.jeff
Jeanine Matthews (Divergent)
Klaus Adler
BEN
Evil CJ (Main Villain)
Bosses:
King Boom Boo
Golden Freddy
The Devil/Satan (AVGN)
Omega Flowey
Nightmare Fredbear
Null the Living Darkness (True Final Boss)
The Bieber (RarePG) (Super Final Boss)
Tabuu (Ultra Final Boss)
Asriel Dreemurr (Mega Final Boss)
Reltih Floda (Giga Final Boss)
The Illuminati (Real Final Boss)
Sirron Kcuhc (The Most Real Motherf**king Final Boss)
Stages:
Ocularis Infernum
Technodrome
The Gate
Mephisto's Hell
Burned City
Giygas' Lair
Rugal Stage 2
Freddy Fazbear's Pizzeria
Destroyed Cairo Bridge
Villain's Valley
Assists:
Shadow (KHII)
Gigas Shadow
Mega-Shadow
Darkball
Invisible
Orcus
Bit Sniper
Neoshadow (KHII)
Novashadow
Gargoyle Knight
Gargoyle Warrior
Darkside
Dark Follower
Soldier (KH2)
Lieutenant
Deserter
Sargent
Commander
Air Soldier
Air Commander
Air Trooper
Large Body
Fat Soldier
Red Norctune
Blue Rhapsody
Yellow Opera
Green Requiem
Black Ballade
Silver Rock
Emerald Blues
Crimson Jazz (KHII)
Spring Metal
Scarlet Tango
Grey Caprice
Striped Aria
Sapphire Elegy
Pink Concerto
Dusk
Dark
Creeper
Assassin
Sorcerer
Dark Sorcerer
Illusionist
Twilight Thorn
Midnight Thorn
Dry Bones
Gold Ghost
Purple Ghost
Blue Ghost
Hammer Bro
B1 Battle Droids
B2 Super Battle Droids
B3 Ultra Battle Droids
Droidekas
Demon Shadow
Fire Follower
Berserker
Met
Twilight Warrior
Blazing Thorn
Behemoth
Arch Behemoth
Destroyed Behemoth
Black Behemoth
Black Brute
Shadow Sora
Anti Sora
Possessor
Thresholder
Shadow Stalker
Dark Thorn
Massive Possessor
Blox Bug
Danger Bug
Metal Bug
Prize Bug
Metamorphosis
Geonosian Warriors
Armored Knight
Guard Armor
Red Armor
Time Bomb
Dark Bomb
Trinity Armor
Battle Armor
Snow Armor
B1 Assault Droids
Stormtroopers
Snowtroopers
Sandtroopers
Dewback Troopers
Shock Troopers
Scout Troopers
Jungle Troopers
Forest Troopers
Seatroopers
Swamptroopers
Dark Troopers
Blaze Troopers
Hazard Troopers
Frost Troopers
Assassin Troopers
Razor Troopers
Terror Troopers
Stormtrooper Commandos
Novatroopers
B1 Assassin Droids
B1 Engineer Droids
IG-100 MagnaGuards (Electrostaves)
B1 Firefighter Droids
BX Droid Commandos
B1 Rocket Droids
B1 Flame Droids
B1 Freeze Droids
B1-A Air Droids
B1 Prison Droids
Buzz Droids
B1 Grapple Droids
B2 Grapple Droids
Dwarf Spider Droids
Crab Droids
Octuptarra Tri-Droids
Neimoidian Brutes
Fire Darkside
Gargoyle King
Heartless Carrier Ships
Strato Armor
Wight Knight
Gargoyle
Armored Commander
Speedclaw
Dark Emperor
Cybermen
Vase Centipede
Vase Scorpion
Vase Spider
Thunder Armor
Mecha Spider
Mecha Destroyer Nobody
Galaxy Armor
Trinity Gladiator
Victory Armor
Antlion
Mutant Scorpion
Sandworms
Tusken Raiders
Rattlesnake (Deadly Creatures)
Dalek
Balloon Boy
The Puppet
Toy Freddy
Toy Bonnie
Toy Chica
Phantom Freddy
Phantom Chica
Phantom Balloon Boy
Phantom Foxy
Plushtrap
Items:
Shadow Glob
Narrators:
BlackJack SquarePants
Vicky
SHODAN
Millennium Star
Beavis and Butt-head
Brak
Krang
Ivan Ooze
Meowth
The Architect
Katz
King Ramses
Benton Tarantella
Dr Zalost
Xerxes (System Shock 2)
Joseph Stalin
HAL 9000
xXSwagnemite#YOLO420Xx
Classic Mode Final Boss:
Geese Howard
Azazel (Tekken)
Nancy-Mi847j (Tekken)
Ad blocker interference detected!
Wikia is a free-to-use site that makes money from advertising. We have a modified experience for viewers using ad blockers

Wikia is not accessible if you've made further modifications. Remove the custom ad blocker rule(s) and the page will load as expected.