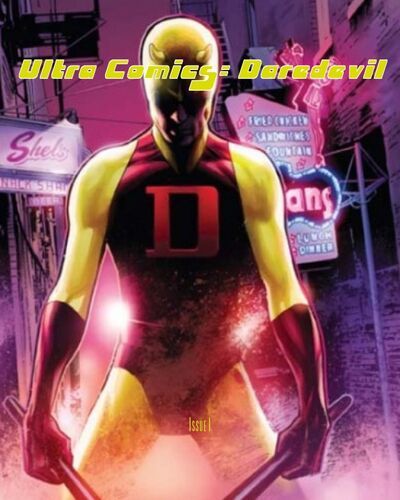 Ultra Comics: Daredevil is a title set Fourteen-Years after the original Ultra: Daredevil title, this title stars Matt Murdock's Fifteen-Year-Old clone
Plot
Fourteen-Years after Matt Murdock's death Hammer Industries decided to clone Matt Murdock and use the clone as an assassin for any enemies of Justin Hammer a Five months the clone was complete and was already at the age of fifteen and educated and luckily had the skills of his genetic template after the scientists ran tests on him to make sure he wasn't insane the clone still had the memories of Matt Murdock and knew he was good so the clone took out the scientists and left and went to S.H.I.E.L.D for help they analyzed him and realized he was a clone and decided to give him a name "Jace Murdock" Jace was not blind but he still had Matt's radar senses, Jace decided to stay and live at S.H.I.E.L.D and become an agent and they gave him his own costume so from then on Jace became the new Daredevil.
Ad blocker interference detected!
Wikia is a free-to-use site that makes money from advertising. We have a modified experience for viewers using ad blockers

Wikia is not accessible if you've made further modifications. Remove the custom ad blocker rule(s) and the page will load as expected.