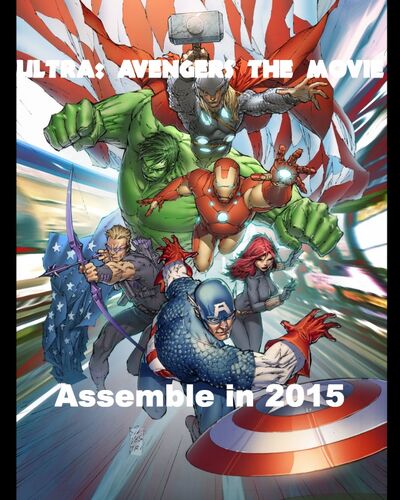 Ultra: Avengers is a movie adaption of the best selling comic book series title Ultra: Avengers, it will be a Straight to DVD release
NOTE!
DO NOT EDIT WITHOUT PERMISSION.
Plot
A deadly threat has emerged (Thanos) and no single hero can defeat him so Nick Fury director of S.H.I.E.L.D assebles a team of the worlds greatest heroes Iron Man, Captain America, Hawkeye, Black Widow, Thor and The Hulk.
Cast
Adrian Pasdar as Tony Stark/ Iron Man
Justin Gross as Steve Rogers/ Captain America
Gabriel Mann as Bruce Banner
Fred Tatasciore as Hulk
Rick D Wasserman as Thor Odinson
Andrew Francis as Clint Barton/Hawkeye
Vanessa Marshall as Natasha Romanoff /The Black Widow
Dave Fennoy as Nick Fury
Dee Bradely Baker as The Chitauri
Kari Wuhrer as Maria Hill
Gary Krawford as Thanos
Cameos
When Nick Fury is looking through the superhero files to join The Avengers he comes across to Spider-Man and says "Parkers too inexperienced".
When Bruce is complaining Hawkeye mentions Daredevil and says "Come on, Daredevil is braver then you and he's blind"
Captain America mentions his friend Buck in WWII and how he died
When Nick Fury is scrolling through the files Maria Hill suggests that he should call The Fantastic Four and then Nick Fury says their in a different galaxy at the moment.
When the Avengers set off to Wakanda, Bruce Banner mentions Black Panther and says "Is the Black Panther legend true?"
In a flashback of Captain America in WWII it shows him and Bucky fighting alongside James Howlett (Wolverine) and teenager Walter Richards (Reed Richards father)
Reviews
The movie recieved positive reviews and the fans stated they would like a sequel
Sequel
The sequel focuses on Captain America and the main villain will be Winter Soldier it is in development at the moment and will schedule to release in 2018, it will be titled Ultra: Avengers 2
Ad blocker interference detected!
Wikia is a free-to-use site that makes money from advertising. We have a modified experience for viewers using ad blockers

Wikia is not accessible if you've made further modifications. Remove the custom ad blocker rule(s) and the page will load as expected.