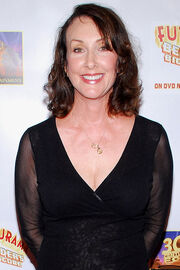 Tress MacNeille (born June 20, 1951) is an American comedian, voice actress, singer and former disc jockey best known for providing the voices of Daisy Duck, Chip, Gadget Hackwrench, Wilma Flintstone, Mom, Agnes Skinner, Dolph Starbeam and various other characters on other animated television series such as The Simpsons, Futurama, Tiny Toon Adventures, Animaniacs, Disney's House of Mouse, Chip 'n Dale Rescue Rangers, Rugrats, and Dave the Barbarian.
Ad blocker interference detected!
Wikia is a free-to-use site that makes money from advertising. We have a modified experience for viewers using ad blockers

Wikia is not accessible if you've made further modifications. Remove the custom ad blocker rule(s) and the page will load as expected.