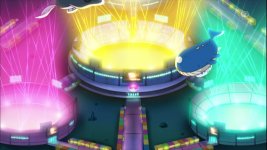 Attention All Teams! It's The Hour Of The Suzuran Island Games! THE GAMES BEGIN!
There Are 4 Teams: Mario Bros Team, Gi-Nyu Team, Z Warrior Team and Wecker Signa Team.
The Games Are This: 100m Race, Tennis Tourney, Hammer Throw, Diving, Beach Volleyball Tourney, Obstacle Race, Horse Race, Pole Vault, Archery, Swimming, Weightlifting, Sail Boat Race, Triple Jump, Synchronized Swimming and The Final Game Is Marathon.
The Places Are This: Suzuran Stadium, Tennis Stadium, Palm Woods, Suzuran Beach and Pokepark.
The Prize Of The Games Is Here: To The 3rd: Bronze Trophy, To The 2nd: Silver Trophy and The 1st Place The Award Is A Gold Trophy and 500,000 Dollars!
Remember The 3 Steps Is Get Ready, Training and Enjoy The Games.
And Remember: You Play With Fun, You Win!
LET THE GAMES BEGIN!
Ad blocker interference detected!
Wikia is a free-to-use site that makes money from advertising. We have a modified experience for viewers using ad blockers

Wikia is not accessible if you've made further modifications. Remove the custom ad blocker rule(s) and the page will load as expected.