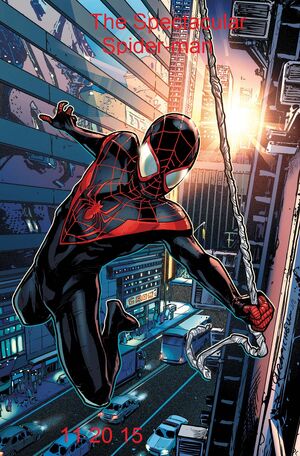 "The Spectacular Spider-Man" is the upcoming film reboot of the Spider-man film series. The film has a planned release of November 20, 2015. Following how much the 2012 reboot "The Amazing Spider-Man" sucked, Sony decided to reboot the the franchise again, choosing to ignore The Amazing Spider-Man. Similar to 2008's "The Incredible Hulk" it will not have another origin story, rather giving scenes during the opening credits and establishing things through out the film.
Cast
Chris Massoglia as Spider-Man/Peter Parker
Kristen Bell as Black Cat/Felicia Hardy
Bruce Campbell as Mysterio/Quentin Beck
Robert Pattinson as Electro/Max Dillon
Lyndsy Fonseca as Mary Jane Watson
Eric Bana as Shocker/Herman Schultz
Helen Mirren as Aunt May Parker
Tim Robbins as Uncle Ben Parker
J. K. Simmons as J. Jonah Jameson
Costume
It has been confirmed that thise movie will have a costume different from the normal red and blue.  Many fans have speculated that it will be the black symbiote costume, leading to Venom in a sequel. Nothing has been confirmed yet about the costume.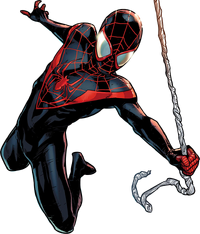 UPDATE: At the 2013 San Dieago Comic Con, a promotional image for the suit was displayed. It resembles Mile Morale's Spider-Man costume in Ultimate Comics: Spider-man.
Title
There have been several rumored titles about the film, though nothing has been confirmed. Rumored titles include:
Spider-Man Returns
The Spectacular Spider-Man
Web of Spider-Man
Ultimate Spider-Man
Spider-Man Reborn
UPDATE: At the 2014 New York Comic Con, the first poster for the film was released.  It had the name "The Spectacular Spider-Man" on it, confirming the title of the film was The Spectacular Spider-Man.
Sequel
A month before the film's premiere Sony confirmed that a sequel had already been greenlit.