Trailer
The trailer starts out with the "Krueggins Production", and we see Chanel Shaw taking a picture by saying "SMILE". When the announcer said "A Spectacular Motion Picture Event", we see Alexandros Martinez tap-dancing with people. Then it cuts to Alex talking to RUHS Badminton coach Steve Shaw by telling him "I shall accept nothing less!". The announcer says "It's a story of a chaotic ball theft, the target Steve Shaw as the wonderful badminton coach Bernard Benson". At the luncheonette, Frame tells Shaw that thieves are gonns breathe down her neck, when Shaw believes that there will not be any. Culprit Randy harris as the coach's jealous manager. Robin Gabriel asks Randy why he's doing it, and he replies that he's a villian. Before the Prime Suspect is revealed, we see a clip of Mr. Harris stealing Miss Frame's necklace. Consuela, Robin's aide, tells Robin that he has the picture to show Officer Newman. It is revealed that Alexandros Martinez is the Prime Suspect. "Alexandros Martinez stole my necklace". This leads the crowd into amusement.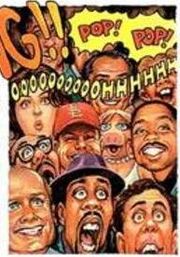 It is up to Duncan Avery (who is planning this super important mission), Dawn Smith (The RBUSD Aide that claims that we can't let the bad people win), Consuela (Who heard the evil plot), and the rest of the people.
Quotes
Lady Frame: I could feel if thieves breathed down my neck.

Steve Shaw: Thieves will not breathe down your neck.

Lady Frame: Alexandros Martinez stole my necklace.

Crowd: OOOOOOOOOOHHHHHH!.
(Camera views to Alex's Arrest)
Alexandros: NO!.

Ad blocker interference detected!
Wikia is a free-to-use site that makes money from advertising. We have a modified experience for viewers using ad blockers

Wikia is not accessible if you've made further modifications. Remove the custom ad blocker rule(s) and the page will load as expected.