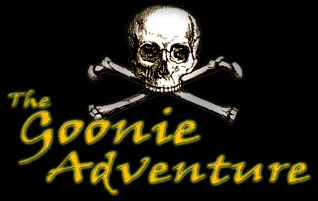 A remake of Steven Spielberg's The Goonies Starring Preston Bailey, Daniel Radcliffe and Nadine Velazquez.
Plot / Synopsis
After learning their neighborhood of Astoria, Oregon is about to be demolished, band of pre-teens who live in the "Goon Docks" attempt to save their homes, and in doing so, discover an old Spanish map that leads them on an adventure to unearth the long-lost treasure of the legendary 17th-century pirate, One-Eyed Willie.
Cast
Preston Bailey as Michael "Mikey" Walsh
Moisés Arias as Clark "Mouth" Devereaux
Jake Cherry as Richard "Data" ???
Rico Rodriguez II as Lawrence "Chunk" Cohen
Daniel Radcliffe as Brandon "Brand" Walsh
Dakota Fanning as Andrea "Andy" Carmichael
Logan Browning as Stephanie "Stef" Steinbrenner
Nadine Velazquez as Maria "Ma" Fratelli.
Joe Pantoliano as Francis Fratelli
Lobo Sebastian as Jake Fratelli
The Great Khali as Lotney "Sloth" Fratelli
Music
Smooth Criminal - Michael Jackson
Good Enough - Cyndi Lauper
Underground - Tom Waits
Firework - Katy Perry
Dynamite - Taio Cruz
Ad blocker interference detected!
Wikia is a free-to-use site that makes money from advertising. We have a modified experience for viewers using ad blockers

Wikia is not accessible if you've made further modifications. Remove the custom ad blocker rule(s) and the page will load as expected.