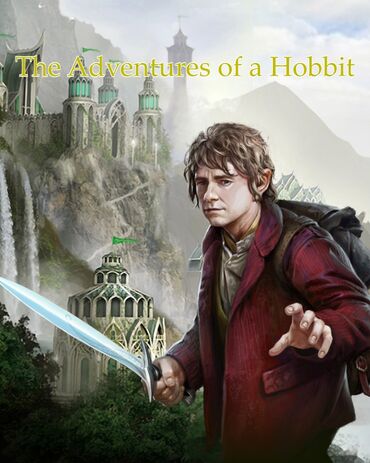 The Adventures of a Hobbit is an upcoming 2012 video game set in J.RR Tolkeins Middle-earth and is a free roam game and the game is produced and released by Beenox and is only produced for the Xbox 360
Plot
The story is set 100-Years after the quest to destroy the One Ring, young 41-Year-Old Hobbit Mermiac Hamwich is a bored Hobbit wanting adventure, he finally gets his chance when Elves tell him The Shire is in grave danger...
Game Chapters
Chapter 1- The Shire
Chapter 2- An odd guest
Chapter 3- The Adventure begins
Chapter 4- Ambush
Chapter 5- Arrival at Rivendell
Chapter 6- An unusual alliance
Chapter 7- Dragons
Chapter 8- Death of a friend
Chapter 9- Return
Chapter 10- The Great Battle
Chapter 11- Epilogue
Gameplay
This is a roleplaying game where you can customize your Hobbit and play as him in the world of Middle-earth. It is a third person video game and features puzzles and riddles the gameplay and fights are simular to the Lord of the Rings video games and graphics are like a book
Upcoming Sequel
The writer of the game has announced that The Adventures of a Hobbit will be the first in a trilogy will be coming out soon
News just in the title of the sequel will be called The Adventures of a Hobbit II: The Journey Continues
And for the 3rd game its announced it will be called The Adventures of a Hobbit III: The Civil War
Ad blocker interference detected!
Wikia is a free-to-use site that makes money from advertising. We have a modified experience for viewers using ad blockers

Wikia is not accessible if you've made further modifications. Remove the custom ad blocker rule(s) and the page will load as expected.