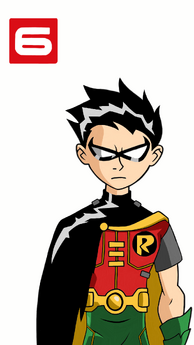 The sixth season of Teen Titans is the final season of the animated series. The sixth season takes place where the 5th season had left off, and this makes Terra's (23rd) reappearance and it's to air on Toonami programming block of Adult Swim on January 5, 2019.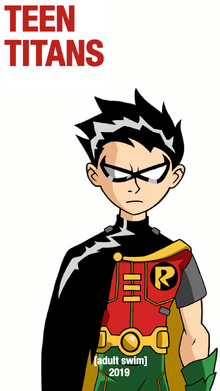 Voice Actors
Lauren Tom = Gizmo and Jynx (voices)
Khary Payton = Cyborg and Herald (voices)
Mike Erwin = Speedy (voice)
Jesse McCartney = Jason Todd/Optimo (voice)
T'Keyah Keymah = Bumblebee (voice)
Freddie Rodriguez = Mas Y Menos (voices)
Bumper Robinson = Hot Spot (voice)
Michael Rosenbaum = Kid Flash (voice)
Dee Bradley Baker = Wildebeest, Gnaark, Cinderblock, Plasmus and Overload (voices)
Russi Taylor = Melvin and Timmy Tantrum (voices)
Danny Cooksey = Super Boy (voice)
Bailee Madison = Flash Girl (voice)
Ron Perlman = Slade (voice)
Kevin Michael Richardson = Mammoth and See-More (voices)
Tracey Walter = Puppet King (voice)
Frank Welker = Snowball, a giant evil snow monster (sound effects and voice)
Xander Berkeley = Warp (voice)
Tom Kenny = Mumbo (voice)
Malcom McDowell = Mad Mod (voice)
Corey Burton = Brain and Monsieur Mallah (voices, replacing the late Glenn Shadix respectively)
Jim Cummings = the Master of Games (voice)
Grey DeLisle Griffin = Wonder Girl (voice)
John DiMaggio = Brother Blood (voice)
Madison Pettis = Falkyra a new female villain character (voice)
Jack Black = The Crimson Scorpion, a new male villain character (voice)
S. Scott Bullock = Thunder (voice)
Quinton Flynn = Lightning (voice)
Richard Horvitz = Bad Luck Bill (voice)
Mark Hamil = The Joker (voice)
Kevin Conroy = Batman (voice)
New Opening Theme Song Intro and Outro
Sung by Beast Boy, who's voiced by Greg Cipes in the series.
Gallery
Episodes
Episode 613: "The Dark Side of the Moon" (March 30, 2019)
Episode 614: "The Joke's Getting on You Part 1" (April 6, 2019)
Episode 615: "The Joke's Getting on You Part 2" (April 13, 2019)
Episode 616: "Brother Blood Returns" (April 20, 2019)
Episode 617: "White Monster Revealed" (April 27, 2019)
Episode 618: "The Return of Adonis" (May 4, 2019)
Episode 619: "Sea Monster Warning" (May 11, 2019)
Episode 620: "Kitten Returns" (May 18, 2019)
Episode 621: "Baby-Sitting Frenzy" (May 25, 2019)
Episode 622: "Trigon Doesn't Exist Any Longer" (June 1, 2019)
Episode 623: "Chimpified Twins" (June 8, 2019)
Episode 624: "Blackout Part 1" (June 15, 2019)
Episode 625: "Blackout Part 2" (June 22, 2019)
Episode 626: "The Evil Within" (June 29, 2019)
Episode 627: "The Doom Patrol Returns" (July 6, 2019)
Episode 628: "The Mystery of Robin's Brief Case" (July 13, 2019)
Episode 629: "The Final Battle Part 1" (July 20, 2019)
Episode 630: "The Final Battle Part 2" (July 27, 2019)
Voice Cast Members Death Notices
Over the past 3 years, 3 talented voice actors of the best and original Teen Titans have passed away, for example: Tony Jay, who was the narrator in the season 3 episode: "Transformation", passed away from complications of a non-cancerous tumor in his lungs following endoscopic surgery at the age of 73 back on August 13, 2005, Glenn Shadix, the 1st and original voices behind Brain and Monsieur Mallah, passed away from a blunt trauma at the age of 58 back on Tuesday, September 7, 2010 and Michael Clarke Duncan who voiced Hayden/Krall in the season 4 episode: "Cyborg the Barbarian", passed away from heart attack complications at the age of 54 back on September 3, 2012.
Trivia Notice
Danny Cooksey, Bailee Madison, Grey DeLisle Griffin, Madison Pettis, Richard Horvitz and Jack Black join the voice cast members to voice the hero characters: Super Boy, Flash Girl and Wonder Girl and the new villain characters: Bad Falkyra, Bad Luck Bill and the Crimson Scorpion.
Unlike seasons 1, 2, 3, 4 and 5, season 6 is rated TV-14-LV and TV-PG-V.
This is reboot of the Teen Titans series.
Ad blocker interference detected!
Wikia is a free-to-use site that makes money from advertising. We have a modified experience for viewers using ad blockers

Wikia is not accessible if you've made further modifications. Remove the custom ad blocker rule(s) and the page will load as expected.