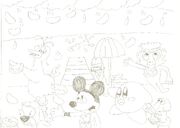 An upcoming film that will take place in Chewandswallow, and sequel to Cloudy with a Chance of Meatballs 2.
Cast
Haley Joel Osment as Sora
Bret Iwan as Mickey Mouse
Miley Cyrus as Herself
Paul Reubens as RX-24
Russi Taylor as Minnie Mouse
Tony Anselmo as Donald Duck
Bill Farmer as Goofy and Pluto
Demi Lovato as Herseld
Adam Rose as Peanut Otter
Jenell Brook Slack as Jelly Otter
Gina Marie Tortorici as Baby Butter Otter
Eddie Korbich as Flick Duck
Cody Pennes as Pinch and Scootch Raccoon
Kevin Clash as Elmo
Carol Spinney as Big Bird and Oscar the Grouch
Eric Jacobson as Bert
Steve Whitmire as Ernie
Charles Martinet as Mario, Mini Marios and Luigi
Samantha Kelly as Princess Peach, Toad, Toadette and Pauline
Makiko Ohmoto as Kirby and Ness
Ted Lewis as King Dedede
Chris Sanders as Stitch
Cloudy with a Chance of Meatballs
Bill Hader as Flint Lockwood,FLDSMDFR machine.
Anna Faris as Samantha "Sam" Sparks
James Caan as Timothy (or Tim) Lockwood
Neil Patrick Harris as Steve the Monkey
Bruce Campbell as Mayor Shelbourne
Andy Samberg as Brent McHale
Mr. T as Officer Earl Devereaux
Bobb'e J. Thompson as Calvin Devereaux.
Benjamin Bratt as Manny
Al Roker as Patrick Patrickson
Will Forte as Joseph Towne
Ad blocker interference detected!
Wikia is a free-to-use site that makes money from advertising. We have a modified experience for viewers using ad blockers

Wikia is not accessible if you've made further modifications. Remove the custom ad blocker rule(s) and the page will load as expected.