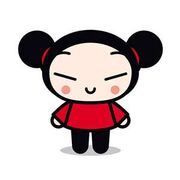 Pucca is a 10-year old girl (turns 11 in this episode,
Slam Bam Birthday Bash
) and she loves Garu but doesn't known about Garu's Goal. She and Garu are both mute.
Early life
Born to her parents Pucca's Family were Great Noodle Makers they also make there famos ja chang noodles. as a toodler she met Garu while Her family talked with Garu's Famliy sometime after she left Garu's Father dies and Sooga village lost some of their Food stock Pucca knew Sooga and Garu were needed so She told her uncles to go to Sooga village and fix noodles everday over there. more information will be added later.