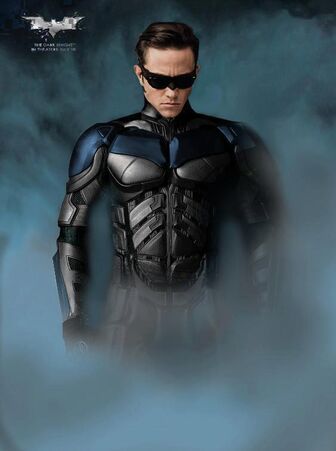 Nightwing is an upcoming American Action film scheduled to release July 27, 2017. It will be directed by Zack Snyder and will be similar to the Christopher Nolan Batman films; long and detailed. There will be 3 films in the making and will go back to Ben Affleck as Batman after that. The last movie will be similar to The Dark Knight Rises; it will go out in a bang. This movie takes place after the events of The Fall of Batman.
Premise
Dick Grayson, after becoming Robin, is now 20 years old and takes the wing of Batman for a while. He protects Gotham, but Dick must act fast when Red Hood (Jason Todd) plans to overthrow Gotham's underworld.
Cast
Joseph Gordon-Levitt as Dick Grayson / Nightwing
Max Charles as Dick Grayson (young)
Jena Malone as Barbara Gordon / Oracle
Chris Hemsworth as Roman Sionis / Black Mask
J.K. Simmons as Commissioner James "Jim" Gordon
John Goodman as Detective Harvey Bullock
Adrian Brody as Jason Todd / Red Hood
Ben Affleck as Bruce Wayne (cameo appearance)
Hugo Weaving as Hugo Strange
Emma Stone as Vicki Vale
Elisabeth Shue as Starfire (cameo appearance)
Sequels
A sequel is scheduled to release May 2nd, 2019 and the third one on April 14th, 2023.
Video Game
A video game will be released set after the Movie. The gameplay and fighting style will be similar to Batman Arkham Asylum and the free roaming will be similar to the Spider-Man games. It will be developed by Rocksteady Studios and will be released by Warner Bros Entertainment. It is planned to be released on Xbox 360, PlayStation 3, PlayStation 4, Xbox One, Wii U, Nintendo 3DS, Microsoft Windows and Macintosh.
Gallery​
Ad blocker interference detected!
Wikia is a free-to-use site that makes money from advertising. We have a modified experience for viewers using ad blockers

Wikia is not accessible if you've made further modifications. Remove the custom ad blocker rule(s) and the page will load as expected.