This Page is currently Under Construction.
This article is currently
Under Construction.
Therefore, please excuse its informal appearance while it's being worked on. We hope to have it completed as soon as possible.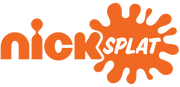 NickSplat will become an American digital multicast television network to compete against Retro Television Network, MeTV, Antenna TV, and Cozi TV. The network shows reruns of mid-late 1980s, 1990s and early 2000s programming, mostly shows that aired on Nickelodeon during their original runs and reruns.
The network airs 24 hours a day, 7 days a week.
Its name and logo comes from Nickelodeon's historic logo, a white brush-printed wordmark on an amorphous orange background (often manifested as a "splat" shape, but which was frequently rendered in many others), which the network used from 1984 to 2009.
Shows
Doug
Rugrats
Rocko's Modern Life
All That
Kenan and Kel
Hey Arnold!
CatDog
Aaahh!!! Real Monsters
Action League Now!
All Grown Up!
The Amanda Show
The Angry Beavers
Are You Afraid of the Dark?
As Told by Ginger
ChalkZone
Clarissa Explains It All
Double Dare
Family Double Dare
Double Dare 2000
Figure It Out
Figure It Out: Family Style
Figure It Out: Wild Style
GUTS
Global GUTS
Hey Dude
KaBlam!
Legends of the Hidden Temple
The Mystery Files of Shelby Woo
Nick News with Linda Ellerbee (1992-2003 episodes)
Oh Yeah! Cartoons
The Ren & Stimpy Show
Rocket Power
Roundhouse
Salute Your Shorts
Welcome Freshmen
Fifteen
The Wild Thornberrys
You Can't Do That on Television
The Secret World of Alex Mack
My Brother and Me
Space Cases
The Brothers Garcia
Noah Knows Best
Catlin's Way
Taina
SpongeBob SquarePants (Seasons 1-3)
The Fairly OddParents (Seasons 1-3)
Invader Zim
The Adventures of Jimmy Neutron: Boy Genius (Seasons 1-2)
The Adventures of Pete & Pete (full half-hour episodes from 1991-1996, in addition to the shorts)
Cousin Skeeter
100 Deeds for Eddie McDowd
Wild & Crazy Kids
Pelswick
The Nick Cannon Show
Animorphs
The Journey of Allen Strange
Blocks to be revived
SNICK
Nick Flicks
Nick in the Afternoon
Nicktoons TV
Nickel-O-Zone