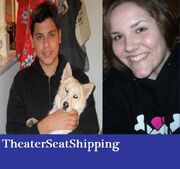 Guests
Alex
Stacy Mengel, Steve Mengel, Alyssa Mohr, Kevin Jaborra, Lindsay Jaborra, Jason Frankovitz, Cassie Frankovitz, Kermit the Frog, Katie Leigh (Sub for Miss Frame on 5/21/2010 and a real life actress), Daniel Robinson, Marty Pike, Nate Garcia, Danielle Smith and Jonathan Jara.
Meghann
Robert Hernandez, Michelle Buchanan Hernandez, Kyle Kissinger, Lisa Buchanan, Vince Martinez, Lorna Martinez, Tommy Chaffins, Kris Moon, Mike J Perez, Jennifer Dessert, Jordan Costello, Susan (Alex's Ex Aide), Cayden Borenstein and Brett Marie Aspel.
Uncle Lee Jaborra-Minister
Barbara Jaborra- Driver for Alex and Meghann's wedding cart
Location
The wedding took place at the Anderson Park Fields when Alex and Meghann were wedded husband and wife. The reception took place inside the Lincoln School Cafeteria.
Food
Alex
Feta Cheese and Spinach Chicken, Rice Pilaf and Asparagus
Meghann
Apsaragus Frittata, Salsa, Chips, Mexican Rice (Used White Rice and Chicken Broth) and Refried Beans.
Story
As Alexandros and Meghann Martinez walked down the field, we have Alex's side on the left side while Meghann's side was on the right. The minister Lee Jaborra pronounced Alex and Meghann as Husband and Wife. After the wedding, Mr. Chaffins escorted Meghann Martinez to the "JUST MARRIED" car. As Alex and Meghann rode off, Alex threw the bouquets to Danielle Smith.
Inside the Lincoln School Cafeteria, the 28 guests had their wedding reception. Things went great: Drinks were served inside the Cafeteria's kitchen; there were public bathrooms outside the Cafeteria; they had a band called "The Enriquez Brothers" that played a song for Meghann Odum--I was the lead singer for the band; and they did the dollar dance for those who wanted money for their dancing.
NOTES
Elisa, Christian Martinez, Kaytelyne Odum and Austin Bowen were not invited to Alex's wedding for reasons

Elisa and Kaytelyne's brashness towards Alex. The fact Elisa is such a Rimjob, claiming that I have my head in my butt when it is impossible to do in real life.
Christian is too much of a jerk to attend the wedding.
Alexandros hates Austin because he's a dick to Alex.

The wedding reception, the dinner the day before the wedding, took place at the Rancho Palos Verdes IHOP on Western Ave and Capitol Drive/Trudy Drive. That IHOP is always the one that Alex wanted to go to.
Ad blocker interference detected!
Wikia is a free-to-use site that makes money from advertising. We have a modified experience for viewers using ad blockers

Wikia is not accessible if you've made further modifications. Remove the custom ad blocker rule(s) and the page will load as expected.