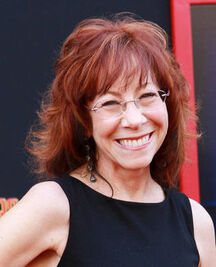 Mindy Lee Sterling (born July 11, 1953)[1] is an American actress, comedianne and voice actress. Among her most prominent roles are Frau Farbissina in the Austin Powers series of comedy films, Principal Susan Skidmore on the Disney Channel series A.N.T. Farm, Ms. Endive in Chowder, Lin Beifong on The Legend of Korra, and Miss Briggs on iCarly.
Ad blocker interference detected!
Wikia is a free-to-use site that makes money from advertising. We have a modified experience for viewers using ad blockers

Wikia is not accessible if you've made further modifications. Remove the custom ad blocker rule(s) and the page will load as expected.