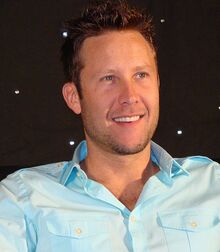 Michael Owen Rosenbaum (born July 11, 1972) is an American film and TV actor, producer, and comedian. He is known for his performance in Sorority Boys and for portraying Lex Luthor on the Superman television series Smallville, a role that TV Guide included in their 2013 list of The 60 Nastiest Villains of All Time. Rosenbaum is also known for portraying Dutch Nilbog on FOX's Breaking In, and voiceover work in animation, such as his role of Wally West/the Flash in the DC animated universe. Between 2015 and 2016, he played the lead role in the TV Land comedy series Impastor.
Roles
Ad blocker interference detected!
Wikia is a free-to-use site that makes money from advertising. We have a modified experience for viewers using ad blockers

Wikia is not accessible if you've made further modifications. Remove the custom ad blocker rule(s) and the page will load as expected.