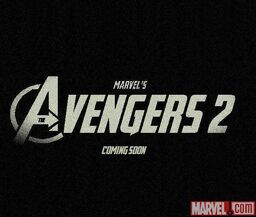 The Avengers 2
Marvel's The Avengers 2 Follows After The Events Of Phase 2 (Iron Man 3 [2013], Thor: The Dark World [2013], Captainn America: The Winter Soldier [2014], Gardians Of The Galaxy [2014] and Ant-Man [2015]). The Expected Release Date Is May 1st, 2015.
Plot
Cast
Production
Development
In October 2011, producer Kevin Feige said during the New York Comic Con, "Iron Man 3 will be the first of what we sort of refer to as phase two of this saga that will culminate, God willing, in Avengers 2".[229] In March 2012, Joss Whedon stated that he would want a sequel to be "smaller. More personal. More painful. By being the next thing that should happen to these characters, and not just a rehash of what seemed to work the first time. By having a theme that is completely fresh and organic to itself."At the premiere ofThe Avengers, Feige said they have an option for Whedon to direct The Avengers 2 when and if the time comes.[231] In May 2012, after the successful release of The Avengers, Disney CEO Bob Iger announced a sequel was in development.[232]
At the 2012 San Diego Comic-Con International, Joss Whedon said he was undecided about Avengers 2, stating, "I have not come to a decision on directing Avengers 2. I am having too much fun with this [Firefly reunion] now". However, in August 2012, Iger announced that Whedon will return to write and direct The Avengers 2 and develop a Marvel TV show for ABC. It Is Said To Have An Expected Release Date Of May 1st, 2015.
It Was Also Announced That Spider-Man Will Be In The Avengers Because Sony Do Has The Rights To The Amazing Spider-Man.
Gallery
See Also
Donkey Kong Country: Mission Marvel (2013)