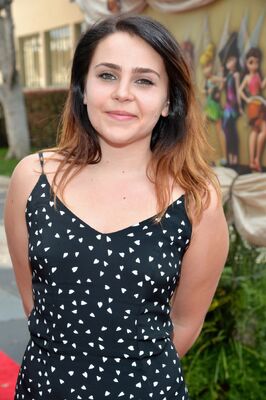 Mae Whitman (born June 9, 1988) is an American actress, singer, musician, comedian and voice artist. She is known for her roles as blind girl Amy trapped with an escaped convict in Lost in the Dark, Ann Veal in the TV series Arrested Development, Amber Holt on the TV series Parenthood, and Roxy Richter in Scott Pilgram vs. the World. She is also known for her voice work as Katara in the animated television series Avatar: The Last Airbender, Little Suzy in Johnny Bravo, Rose/Huntsgirl in American Dragon: Jake Long, April O'Neil in the 2012 iteration of Teenage Mutant Ninja Turtles and Tinker Bell in the Tinker Bell movies.
Voices
Live Action Roles
Gallery
Ad blocker interference detected!
Wikia is a free-to-use site that makes money from advertising. We have a modified experience for viewers using ad blockers

Wikia is not accessible if you've made further modifications. Remove the custom ad blocker rule(s) and the page will load as expected.