Kingdom Hearts III: Reconnect
Comments

0
6,994pages on
this wiki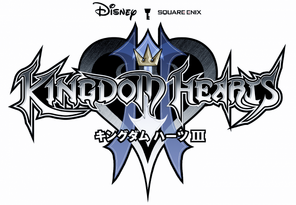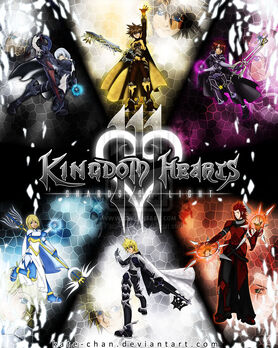 In the final game of the Xehanort saga of the Kingdom Hearts series, Sora, having failed in his master exam due to Xehanort's influece, and his friends must unite to finally save all of those who he swore to rescue from their torment. But the forces of evil are growing ever closer to their goal of obtaining Kingdom Hearts, as Xehanort returns in his true form to lead his new Organization XIII, several Disney Villains, the Unversed and Nobodies towards an everlasting rule of chaos, while Maleficent opposes him with her own team of villains and armies of Heartless, Dream Eaters, and Heart Eaters. Unbestknowen to all 3 groups, a sinister force far greater than either Xehanort or Maleficent is planning to make his move upon the worlds after 2,000 years of slumber.
Story
Characters
Main Heroes
Sora (Haley Joel Osment) - The key that connects everything. The Leader of the 7 Lights.
Riku (David Gallagher) - The fallen friend who's finally achieved redemption through becominbg a Keyblade Master. One of the 7 Lights.
Kairi (Hayden Panettiere) - The true love that will not let worlds keep them apart. One of the 7 Lights.
Donald (Tony Anselmo) - The short tempered royal magician.
Goofy (Bill Farmer) - The simple minded captain of the royal knights.
King Mickey (Bret Iwan) - The once and future king who carries the burden of the universe on his shoulders. One of the 7 Lights.
Aqua (Willa Holland) - One of the 7 Lights.
Roxas (Jesse McCartney) - Sora's side. One of the 7 Lights.
Lea (Quinton Flynn) - The newest keyblade wielder and his nobody Axel was a former member of Organization XIII. One of the 7 Lights.
Ansem the Wise (Corey Burton) - The scientest supreme whose looking to correct the consequences of his experiments.
Max Goof (Jason Marsden) - A paladin in training, trying to step out of his father's shadow.
Chip 'n' Dale (Tress MacNeille and Corey Burton) - Extraordinary spaceflight engineers, who don't let their size hold back their genius designs.
Jiminy Cricket (Phil Snyder) - The conscience and scribe of world traveling heroes.
Pluto - The king's loyal canine, who always ends up in the wrong place at the wrong time.
P.J. (Rob Paulsen).
Main Villains
Master Xehanort (Leonard Nimoy) - The dark keyblade master longing to obtain the power of Kingdom Hearts, but his quest to do so has been the cause for all the misery and devastation in the worlds for decades. His plan to restart the Keyblade War with his 13 darknesses has been helped along by his ally, the Horned King.
Young Xehanort (Benjamin Diskin) - The younger incarnation of Xehanort that has come from the past to join his current self, Young Xehanort is a deadly opponent who's powers over time and space have allowed him to recruit many villains towards the Horned King's goal.
Ansem, Seeker of Darkness (Billy Zane) - Xehanort's heartless who once faced off against the keybearers, he was ultimately revived by Young Xehanort to join Master Xehanort's new Organization XIII.
Xemnas (Paul St. Peter) - Xehanort's nobody who once tried to create his own Kingdom Hearts from the hearts of slain Heartless in order to become a god, Xemnas has been revived from the darkness by the Unknown to join the new Organization XIII.
Vanitas (Haley Joel Osment) - One of Xehanort's early monstrosities, he is a being of raw energy, and thrives on negative emotions to survive and create twisted minions called the "Unversed". Although he was destroyed many years ago by his good half, Ventus, Xehanort managed to revive the Unversed commander as a Sentiment to go alongside Xigbar in recruiting villains to their alliance, as well as become the 13th member of the new Organization XIII.
Xigbar (James Patrick Stewart) - Xehanort's old minion who has been resurrected in the form of his Nobody to aid his master in recruiting an army of villains for use in conquering the realm of light. He may seem like a surfer dude, but he's very dangerous and not to be messed with, especially since he's already starting to mutate into one of Xehanort's 13 darkness clones.
Isa (Kirk Thornton) - Lea's old friend has been corurpted fully to the darkness, and he remains loyal to his master, Xemnas, in the Syndicate/Nu Organization alliance's efforts to restart the Keyblade War. But can Lea break Isa free from Xehanort's control, or will Saix fully become just another clone of the dark lord?
The Alliance of Villain's Vale
Maleficent (Susan Blakeslee) - The Mistress of All Evil, she is a cruel and insidious witch that will stop at nothing to reek her vengeance upon Sora.
Pete (Jim Cummings) - Maleficent's loyal underling is still loyal to her no matter what, but now Pete's leading a sort of team of weak villains to help the rest of Maleficent's allies take over their worlds.
The Horned King (John Hurt) - The first demon, an agent of chaos that was born long ago in darkness, he holds control over all the Heartless and will not stop until he finds the Black Cauldron, which can turn any corpse dipped into it into an invincible zombie in hopes of taking over all worlds.
Chernabog (Corey Burton) - The Demon Lord of all darkness, the Chernabog that Sora fought begore was merely just a Heartless created in his image by Xehanort. This creature is the real deal, and he's not happy for getting sealed away on Bald Mountain for 10,000 years.
The Firebird (Hugo Weaving) - One of the original Juubi No Yami that fought during the War of Light, Firebird is Chernabog's elite second in command of the Demon Lords who takes the form of a massive bird made out of molten lava.
Disney World Characters
Neverland
Jane Darling (Harriet Owen) - Only world in Neverland.
Peter Pan (Blayne Weaver)
Tinker Bell
The Octopus
Captain Hook (Corey Burton)
Hawaii
Stitch (Chris Sanders) - Only world in Hawaii.
Lilo (Tara Strong)
Nani (Tia Carrere)
David Kawena (Jason Scott Lee)
Dr. Jumba Jookida (David Ogden Stiers)
Pleakley (Kevin McDonald)
Gantu (Kevin Michael Richardson)
Muppets Studios
Kermit the Frog (Steve Whitmire) - Only world in Muppets Studios.
Miss Piggy (Eric Jacobson)
Fozzie Bear (Eric Jacobson)
The Great Gonzo (Dave Goelz)
Rizzo the Rat (Steve Whitmire)
Rowlf the Dog (Bill Barrella)
Pepe the King Prawn (Bill Barrella)
Animal (Eric Jacobson)
Sam the Eagle (Eric Jacobson)
Walter (Peter Linz)
Constantine (Matt Vogel)
Olympus Coliseum
Hercules (Tate Donovan) - Only world in Olympus Coliseum.
Philoctetes (Danny DeVito)
Megara (Susan Egan)
Pegasus (Frank Welker)
Zeus (Corey Burton)
Hades (James Woods)
Pain (Bobcat Goldthawlt)
Panic (Matt Frewer)
La Cite Des Cloches
Quasimodo (Ari Rubin) - Only world in La Cite Des Cloches.
Esmeralda (Renee Faia)
Captain Phoebus (Phil LaMarr)
Clopin (Paul Kandel)
Hugo (Jason Alexander)
Victor (Charles Kimbrough)
Laverne (Patricia Lentz)
Judge Claude Frollo (Corey Burton)
Dalmatian London
Pongo (Tom Kane) - Only world in Dalmatian London.
Perdita (Kath Soucie)
99 Puppies
Colonel (Jim Cummings)
Segeant Tibbs (Tom Kenny)
Captain (Will Ryan)
Cruella De Vil (Susan Blakeslee)
Jasper (Jeff Bennett)
Horace (Maurice LaMarche)
Agrabah
Aladdin (Scott Weinger) - Only world in Agrabah.
Jasmine (Linda Larkin)
Genie (Dan Castellaneta)
Abu (Frank Welker)
Iago (Gilbert Gottfried)
Cassim (John Rhys-Davies)
The Sultan (Cam Clarke)
The Peddler (Corey Burton)
Sa'Luk (Jeff Bennett)
Razoul (Jim Cummings)
Jafar's Renmant (Jonathan Freeman)
New Orleans
Princess Tiana (Anika Noni Rose) - Only world in New Orleans.
Prince Naveen (Bruno Campos)
Ray (Jim Cummings)
Louis (Michael-Leon Wooley)
Charlotte (Jennifer Cody)
Dr. Facilier (Keith David)
Lawence (Peter Bartlett)
Kuzcotopia
Emperor Kuzco (David Spade) - Only world in Kuzcotopia.
Pacha (John Goodman)
Kronk (Patrick Warburton)
Chicha (Wendie Mallck)
Tipo (Eli Russell Linnetz)
Chaca (Jessie Flower)
Yzma (Candi Milo)
Atlantica
Melody (Tara Strong) - Only world in Atlantica.
Ariel (Jodi Benson)
Prince Eric (Christopher Daniel Barnes)
Flounder (Cam Clarke)
Sebastian (Kevin Michael Richardson)
King Triton (Corey Burton)
Tip (Max Casella)
Dash (Stephen Furst)
Morgana (Pat Carroll)
Cloak and Dagger (Dee Bradley Baker)
Undertow (Clancy Brown)
Ursula's Renmant (Pat Carroll)
Treasure Planet
Jim Hawkins (Joseph Gordon-Levitt) - Only world in Treasure Planet.
John Silver (Brian Murray)
B.E.N. (Martin Short)
Morph (Dane A. Davis)
Dr. Delbert Doppler (David Hyde Pierce)
Captain Amelia (Emma Thompson)
Scroop (Michael Wincott)
New York City
Oliver (E. G. Daily) - Only world in New York City.
Dodger (Jess Harnell)
Rita (Sheryl Lee Ralph)
Tito (Cheech Marin)
Francis (Kelsey Grammer)
Einstein (John DeSantis)
Fagin (Tino Insana)
Jenny Foxworth (Natalie Gregory)
Georgette (Bette Midler)
Winston (Kelsey Grammer)
Sykes (Rober Loggia)
Roscoe and DeSoto (Corey Burton)
Metroville
Bob Parr/Mr. Incredible (Craig T. Nelson) - Only world in Metroville.
Helen Parr/Mrs. Incredible (Holly Hunter)
Violet Parr (Sarah Vowell)
Dash Parr (E. G. Daily)
Frozone (Samuel L. Jackson)
Edna Mode (Brad Bird)
Syndrome (Jason Lee)
Port Royal
Jack Sparrow (Johnny Depp) - Only world in Port Royal.
Will Turner (Crispin Freeman)
Elizabeth Swann (Eliza Schneider)
Hector Barbossa (Geoffrey Rush)
Bootstrap Bill Turner (Mark Hamill)
Davy Jones (Bill Nighy)
Cutler Beckett (Hank Azaria)
Game Central Station
Wreck-It Ralph (John C. Reilly) - Only world in Game Central Station.
Vanellope Von Schweetz (Sarah Silverman)
Fix-it Relix, Jr. (Jack McBrayer)
Segeant Colhoun (Jane Lynch)
Taffyta Muttonfudge (Mindy Kaling)
Candlehead (Kate Loves)
Rancis Fluggerbutter (Jamie Elman)
Sonic the Hedgehog (Roger Craig Smith)
M. Bison (Gerald C. Rivers)
Zangief (Rich Moore)
King Candy (Alan Tudyk)
Sour Bill (Rich Moore)
Pride Lands
Kiara (Tara Strong) - Only world in Pride Lands.
Simba (Cam Clarke)
Nala (Vanessa Marshall)
Timon (Bruce Lanoil)
Pumbaa (Ernie Sabella)
Zazu (Rowan Atkinson)
Kovu (Jason Marsden)
Vitani (Jennifer Lien)
Zira (Nana Visitor)
Nuka (Andy Dick)
City of Rescuers
Bernard (Curt Menefee) - Only world in City of Rescuers.
Miss Bianca (Russi Taylor)
Chairmouse (Bernard Fox)
Orville (Tom Kenny)
Penny (Tara Strong)
Ellie Mae (Russi Taylor)
Luke (Bill Farmer)
Wilbur (Jeff Bennett)
Jake (Tristan Rogers)
Cody (Adam Ryen)
Marahute (Frank Welker)
Madame Medusa (Tress MacNeille)
Mr. Snoops (Maurice LaMarche)
Brutus and Nero the Crocodiles (Frank Welker)
Percival C. McLeach (Jonathan Freeman)
Joanna the Goanna (Frank Welker)
The Hundred Acre Wood
Winnie the Pooh (Jim Cummings) - Only world in The Hundred Acre Wood.
Tigger (Jim Cummings)
Piglet (Travis Oates)
Rabbit (Tom Kenny)
Eeyore (Bud Luckey)
Kanga (Kristen Anderson-Lopez)
Roo (Wyatt Dean Hall)
Owl (Craig Ferguson)
Christopher Robin (Jack Boulter)
The Backson (Nolan North)