WARNING:

This article is a non-fanon page. Non-fanon means if it is not fanmade or it is also canon.
This page needs some fixing!
This article has been tagged as Needing fix due to plagiarism.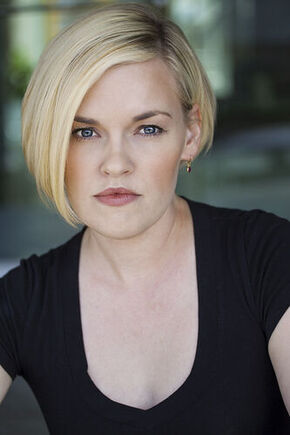 Kari Wahlgren (born July 13, 1977) is an American actress voice actress and singer who has provided English language voices for over a hundred cartoons, anime and video games. She got her start in anime voice-overs as Haruko Haruhara in FLCL, and would later land major roles in a number of series: Robin Sena in Witch Hunter Robin; Lavie in Last Exile; Scarlett in Steamboy; Pacifica Casull, the Scrapped Princess; Saya Otonashi in Blood+; Kagami Hiiragi in Lucky Star; and Saber in Fate/zero.
In American animation, she has provided voices for a number of series including Rick and Morty, Super Robot Monkey Team Hyperforce Go!, Fish Hooks, Phineas & Ferb, Ben 10, Kung Fu Panda: Legends of Awesomeness, Winx Club, and Kaijudo: Rise of the Duel Masters. In video games, she voiced lead characters Ashe in Final Fantasy XII and Shelke in Dirge of Cerberus – Final Fantasy VII. She also voiced Vex in The Elder Scrolls V: Skyrim.
Voices
Sunny and Marie: The Series - Daisy Smith, Additional Voices
X-Men: Days of Future Past - Emma Frost
El Chavo -
Power Girls - Lauren
Ben and HotSpot - Lexi, Jadi
Star Teens Unite! - Ella Jonas
Crossover Universe - Chloe Carmichael, Suzy Johnson, Master Tigress, Tessa, Kagami Hiiragii, Honey Buttowski, Jessica, Nova, Saturn Girl, Allison Underhill, Jeera, Airi Masaki, Tayuya, Carol Anne Freeling, Additional Voices
Multiverse X - Chloe Carmichael, Suzy Johnson, Master Tigress, Tessa, Kagami Hiiragii, Honey Buttowski, Jessica, Nova, Saturn Girl, Allison Underhill, Jeera, Airi Masaki, Tayuya, Carol Anne Freeling, Additional Voices
The Adventures of Juniper Lee and Kania - Little Girl
Sketch This! - Little Girl, Party Kid, Additional Voices
The Unusual Adventures of Desdemona - Kid, Additional Voices
Crystal Universe - Madison Freestone
Crystal Universe 2 - Madison Freestone and Gabrielle Wallace
Crystal Universe 3 - Chloe Mitchell
The Ratchet Trisha Power Hour 2: Bad Luck Struck - Missy Stanford
Crystal Universe 9 - Gabrielle Wallace
Crystal Universe 10 - Gabrielle Wallace
Jak and Daxter: The Avenging Angels - Nightingale/Iris
Jak: The Chosen One is Born - Ashelin
Jak: Shadows of Darkness - Ashelin
Jak: Rise of the Dawn - Ashelin
Space Monsters series - Sam Ramsen
Psonic X Touhou - Sam Ramsen
Knights of RedCliff: The Series - Abigail Roseheart
Atomic Pooch - Jenny Acorn