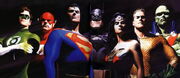 Justice League is an upcoming 2017 American superhero film produced by DC Comics and distributed by Warner Bros. Pictures based on the DC Comics superhero team of the same name .
Ben Affleck as Bruce Wayne/Batman
Henry Cavill as Clark Kal-El Kent/Superman
Gal Gadot as Diana Prince/Wonder Woman
Armie Hammer as Metallo
Michael Caine as Alfred Pennyworth
Heath Ledger as The Joker
Ryan Gosling as Barry Allen/The Flash
Ryan Reynolds as Hal Jordan/Green Lantern
Bradley Cooper as Oliver Queen/Arrow
Morgan Freeman as Lucius Fox
Benico del Toro as Darkseid (after credits)
Owen Wilson as Orin/Aquaman
Channing Tatum as J'onn J'ozz/Martian Manhunter
Amy Adams as Lois Lane
Lawerance Fishburne as Pery White
Blake Lively as Carol Ferris
Mark Strong as Sinestro
Billy Zane as Alexander "Lex" Luthor
Chris Hemsworth as Colonel Steve Trevor
Elizabeth Olsen as Iris West
Dwayne Johnson as Rupert Thorne (Batman's Opening)
Ad blocker interference detected!
Wikia is a free-to-use site that makes money from advertising. We have a modified experience for viewers using ad blockers

Wikia is not accessible if you've made further modifications. Remove the custom ad blocker rule(s) and the page will load as expected.