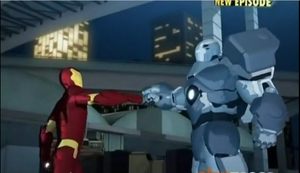 Iron Man Armored Adventures Season 2 has been green lit for production with a remake. However due the partnership between Marvel and Disney, it will premier in 2011, not fall 2010. One thing is uncertain is that since the series will be remade, it is unknown if the voice acting will still be done in Canada or will be done somewhere else.
Canadian Cast
Vincent Tong - Mandarin
Paul Dobson - Dr. Doom
Christopher Judge - Magneto
New York Cast
Crispin Freeman - Iron Man
Jason Griffith - War Machine
Lisa Ortiz - Pepper Potts
Scottie Ray - Mandarin
Marc Thompson - Happy Hogan
Kether Donahue - Whitney Stane
Sean Schemmel - Obadiah Stane/Iron Monger
Sean Rayes - Whiplash
Los Angelas Cast
Normal American Cast
Ad blocker interference detected!
Wikia is a free-to-use site that makes money from advertising. We have a modified experience for viewers using ad blockers

Wikia is not accessible if you've made further modifications. Remove the custom ad blocker rule(s) and the page will load as expected.