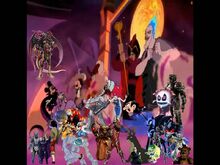 The House of Villains is what the House of Mouse looked like when it is taken over by villains. this Was Only appeared in Disney's The Chipmunks and Chipettes. This Was Used an Exclusive appearance From KH: Chipmunks and Chipettes 2: The Heroes Strikes Back.
Evil Villains
Benson, Helga G. Pataki, Prince Charming (Shrek), Jafar, Cruella deVil, Captain Hook, Hades, Ursula, Chernabog, Maleficent, Shan-Yu, Dr. Facilier, Clayton, Ratigan, Judge Claude Frollo, Ratcliffe, Scar, Hyenas (The Lion King), Madame Medusa, Percival C. McLeach, Tabuu, Shere Khan, Kaa, Sykes, Oogie Boogie, Stromboli, Prince John, Hans, Oscar the Grouch, Constantine, Mr. Burns, Angelica Pickles, Yosemite Sam, Gigyas, Kang the Conqueror, Mojo Jojo, Sideshow Bob, The Ice King, Charles Muntz, Chick Hicks, Delinquent Road Hazards, Yzma, Bluto, Queen of Hearts, The Shredder, Jack-O-Lantern, Max Winters, Gaston, Sinestro, The Red Skull, Mr. Sinister, The Outriders, M. Bison, T-Ray, Darkseid, Thanos, Prince Nuada, Duchess, Frieda the Evil Stepmother, King Malbert, Dr. Schadenfreude, Wayne Cramp, DMP (Destruction, Mayham & Pain), Kahmunrah, Team Rocket, Botticelli, Dick Dastardly, Ahriman, Prince Pyjamarama, Seth, Sephiroth, Chaos, Negaduck, Bushroot, Liquidator, Megavolt, Quackerjack, Steelbeak, Steele, Marvin the Martian, Taurus Bulba, Big Head, Queen Vexus, Thrax, Randall, Sid Phillips, Scud, King Salazar, Mulgarath, Maltazard, Zeebad, Von Talon, Tai Lung, Lamia, Queen Narissa, Emperor Zurg, Principal McVicker, Risky Boots, The Drej, Mordroc, Mordred, The Headless Horseman, Galvatron, Lord Dread, Emperor Gruumm, Mesogog, Morticon, Flurious, Moltor, Kamdor, Miratrix, The Toad, Lotso, Pyro, Ripto, The Fearcats, Phineas Ratchet, Dr. Nefarious, Count Nefaria, The Juggernaut, The Doom Phantom, Professor Tomoe, Pharaoh 90, Sauron, Saruman, Mistress Nine, Zirconia, Queen Nehelenia, Sailor Galaxia, Radley Madish, Luau LePunch, Sundaesauruses, Burgerzillas, Pizza Monsters, Sarge (Papa Louie), Baddies from Papa Louie platformer, Dudley (Jacksmith), Hex Hatfield, Malana Mire, Coco and Crow, KOMPLEX, Master Xandred, Professor Z, Miles Axelrod, Nigel the Cockatoo, Carlos the Chick, Myzor the King of War, Buxton the Blue Cat, I. M. Meen, Gnorga, Leezar, The Seven Evil Exes, Ivanovich Sakharine, Lord Nebula, Overlord of the Spiral Zone, Martin Brisby, Toadborg, Decepticon Man, Cybron, Diana Holo, Nightmare Moon, Discord, Lord Shen, Diesel 10, Captain Boomerang, Leonard Mudbeard, Pigs (Angry Birds) Dark Surfer, The Warstar Aliens, The Phantom of the Opera, Chrysalis, Krulos, Bloth, Baron Dark, HighRoller, Dr. Scarab, Dr. Killemoff, Queen of the Crown, Acer, Grem, Lemons (Cars 2), Ivan the Blue Tow Truck, Tony Trihull, Dr. Doofenschmirtz, Lord Hater, Bill Cipher, Lil Gideon, Ludo, Tex Richman, Evil Genius from Time Bandits, BZ the evil toymaker, Marksman, Cluny the Scourge, Calendar Man, Spellbinder, Mordu, Nekron, Malkor, Frieza, Alchemor, Jack Merridew, Aaron the Moor, James Taggart, The Yeerks, Inspector Javert, Vrak, Visser Three, Blackwolf, Bizarro, Profion, Damodar, The Thenardiers, Footsoldiers, Mabus, The Ghosts from Bold King Cole, Metal Beak and his Pure ones, Pitch the Boogeyman, Toshiaki, Nassor, Megamo, The Snow Queen, Aloysius O'Hare, King Haggard, Tyler (Heavy Metal 2000), Zygon, Claudandus, King Candy, The Whelp, Master Darque, Lord Darkar, Forrest Blackwell, Lord Business, Bio Hunter Silva, Hakaider, The Red Ribbon Army, Aldrich Killian, King Sombra, Queen Bavmorda, Technor, Ripslinger, Mezmeron, Prince Vekar, Emperor Mavro, Mecha-Boy, Revolta, Bad Cop, Enter, Escape, Drago Bludvist, Wilf, Lord Betrayus, Sledge the Bounty Hunter, Daniel from the Hosue of Magic, Xibalba, Edwin Carbuncle, Fury, Poisandra, Wrench, Millicent Clyde, Dr. Octavius "Dave" Brine, Captain Burger-Beard, Nelly Dean, Curio, and All other Villains
Story
The various villains and antagonists sing "It's Our House Now" and turn the House of Mouse into the House of Villains. Sora, Mickey Mouse, Donald Duck, Goofy, Alvin, Simon, Theodore, Brittany, Jeanette, Eleanor, Demi Lovato, SpongeBob Squarepants, Cody Webb, Superman, Optimus Prime, Bucky O' Hare, He-Man, Zorro, She-Ra, Lion-O, the Power Rangers, Earthworm Jim, Batman, Spider-Man, Isaac, Servo, Tensou, Kombo, and every heroes must group up to defeat those vile mean villains once and for all eternity! Restore the House of Mouse to normallity!
Friday the 13th in some year...
SORA: Okay, everybody, now there is a change of pace...
MOJO: Lights out!
SORA: Huh!?
ALVIN: What the-?!
OPTIMUS PRIME: Oh no!
CHARMING: Right you are, Sora! It's Friday the 13th, you know, and it's just the right touch!
SONG:
CHARMING: This could be quite the place...
MOJO: Full of grinning, happy faces!
JESSIE: Hanging out...
JAMES: Feeling fine...
BOWSER: Where everyone's a friend of mine!
JESSIE: Inside this evil joint...
PLANKTON: Every guest gets to the point!
ALL VILLAINS: (raising Satan's Sinistaff) This day will live in infamy! (Bell rings 25:00)
JESSIE: The House of Mouse is history! HAAHAHAHAHAHAHA!
VILLAINS: (singing) It's our house now, it's our house now!
OTHER MOTHER & QUEEN BERYL: It's the best you can't ignore!
HEARTLESS: Shut the window! Lock the doors!
VILLAINS: It's our house now!
DECEPTICONS & ULTRON: Raise your mugs, you thieves and thugs!
ROMULANS: Join the Rabble-Rousing crowd!
V.I.L.E. AGENTS: It's our house now!
CAT-LIKE VILLAINS: We're the coolest cats fit in so perfectly
MALEFICENT: Every evil queen gets due respect! (she grows giant)
EIGHT-ARMED WILLY: Love your work!
KAA: You'll forget your troubles, put your trust in me...
KING K. ROOL: You've had your fun!
MISS FINCH, WAYNE CRAMP, GENERAL WOUNDWORT, ALPACA JACK, GENERAL XAVIAX, AND DALEKS: You've made your play
VILLAINS: But every rodent has his day! (Crowd surfing Sora and Alvin) It's our house now!
MUSKA & LEONARD SABER: Down and Dirty!
VILLAINS: It's our house now!
WUYA & SHISHIO: Feeling Hearty!
HECTOR CON CARNE: (using his flamethrower) What a place for baking bread!
HEADMASTER DECEPTICONS: Eat Your Neighbours!
DALEKS: !EXTERMINATE! (stuns Decepticon heads)
VILLAINS: (forming a conga line below Charming and the four foul henchmen of his) It's our house now!
SWIPER: What a party!
VILLAINS: (trapping the heroes in the kitchen) Join the fun with no regrets! Only greedy, dirty cheats are allowed!
MEOWTH: Wipe them Out! Yeah!
PLANKTON: Game Over, Sora!
BOWSER: Hit the road, Kairi!
CHARMING: Take a hike, Cody!
VILLAINS: It's our house now! Don't bother coming back! It's our house now!
All the villains laugh after they finish the song and banish Sora, Kairi, Alvin, and the others from the building.
ALVIN: Onore!! O-NO-RE!!!!
DUCHESS: Stay out, Bloo, you old enemy of mine! Out, and stay out of our House of Villains!
ADVENTURE: Alvin, we have to do something...
BLOO: We need to get those Jackals out of there right?
ALVIN: Yes, this means WAR against those mean pests!
FANTASY: What? War?
ALVIN: Yes, my friends. We will save the House of Mouse immediately, am I right?!
HORROR: We should have dealed with them, Alvin.
RADLEY MADISH: Bwa, Hahahahaa.... I am Radley, Alvin
ALVIN: You are radish
LEONARD MUDBEARD: Greetings, I am world of the pigs. I'm a the pig.
ALVIN: I agree.
Inside the House of Villains-
PRINCE CHARMING: Now that the House of Mouse is ours, we can ruin their day!
MON*STAR: We can destroy all who stand in our way forever!
PROFESSOR Z: Now that we ruined their day, I, Professor Zündapp, shall destroy the city.
SARK: All of the House of Mouse is ours for no reason, Prince. You have brainwashed the Pagemaster and created evil books, yes?
PRINCE CHARMING: Indeed, Sark. With him on our side, we can summon all the forces of darkness.
SARK: And when will you summon at those powerful forces?
SOUNDWAVE: They don't know, it's true. Maybe by tomorrow night the foolish humans will check their calendar and every day will land on Friday the 13th!
DRAGONOUS: What a great idea!
PRINCE CHARMING: Perfect. Tomorrow it shall be.
MOTHER GOTHEL: Charming, my love... Shall you be in love with me...
NIGEL: For her- All seven deadly sins! Verily I say upon to you, the days of the end of the world is nigh!
STARSCREAM: Say, Megatron, have you seen this? The False Maria's dance is inspired by the Whore of Babylon and...
MEGATRON: I never seen such...
LEEZAR: Shut up...
PROFION AND DAMODAR: There is no...
NEKRON: Nothing? Why does...
MALKOR: Shut up! Nekron, you have a...
TECHNOR: Why can't you?
Every villain exclaim each other.
On the walls of the House of Villains, our heroes get stuck together to put up a plan to defeat Prince Charming and his band of villains.
ALVIN: (whispering) So, here's the plan...
The plan is to diguise Alvin and Sora in Sorceror disguises.
KOMBO: Very good, Alvin! Now get rid of those bad guys! Get 'em, Alvin!
KAIRI: Get 'em, Sora!
OMEGA SUPREME: Defeat Prince Charming, Sora my man!
IMPACTOR: Restore the House of Mouse to normal!
STAMPY: Restore the House of Mouse! Now! Please?
MADAME GIRY: Hurry!
(The villains look at Alvin and Sora astonished)
DEATH: What?
KOMPLEX: Look!
TOADBORG: Could it be?
PHANTOM OF THE OPERA: Those little prying Pandoras must be-
MRS TRUNCHBULL: Look! The curtains are opening!
CLUNY: Look! In the stage!
THRAX: Huh?
JACK MERRIDEW: Could it be them?
HEX HATFIELD: What?
VENGER: What?
INSPECTOR JAVERT: By the stars! Look!
RITA REPULSA: What?
MEGATRON: Whuh?
QUEEN NEHELENIA: What's that thing?
KHAN NOONIEN SINGH: Who?
BONECRUSHER: Is it they?
CYCLONUS: There it is! Come!
GHOSTS FROM BOLD KING COLE: Wha-?!
VISSER THREE: Come, my Yeerk army! And see!
MESSINA: Look!
PLANKTON: What?
RADLEY MADISH: What?
LUAU LEPUNCH: What?
SARGE: What?
RUBER: Could it be Sora, or Alvin, my Commander?
MOTORMASTER: It could be either Sora nor Alvin.
WISEMAN: What's this? huh?
SENTINEL: Look! What is this?
TERMINATRIX: What in the world?
SENTINEL PRIME: What?
SEVERUS SNAPE: So...
IVANOVICH SAKHARINE: I know who that is!!
ENIK: Them?!
BIZARRO: Me see them not right...!
FALSE MARIA: No! It cannot be!
MYZOR: How?
LORD OF DARKNESS: Come! Look!
EVIL GENIUS FROM TIME BANDITS: My oh my.
SPECKLES: How can this be?
AL NEGATOR: I have not seen them...!
MEZMERON: Now who could that be?
GASTON: No-one has clear eyesight like Gaston, though.
CHICK HICKS: Hey!
GASTON: What? But no-one needs respite like Gaston and I have no-
CHICK HICKS: You?! Again?! Sora and Alvin?!?! In disguise?!
ALL VILLAINS: Who? Who? (murmuring the same word)
METAL BEAK: Shut up!
PITCH: Enough of this, OK?
BLUTO (AS ABU HASSAN): Silence!
PRINCE CHARMING: Saruman, reveal them!
SARUMAN: Oh, Osama Bin Laden of Many Colours! (stripping the clothes off Alvin and Sora)
SORA: Oh no!
ALVIN: Uh-Oh.
NIGHTMARE MOON: You were right, Chick Hicks, it is them!
MEPHILES: Are you ready, fools?
BIZARRO: You ready, spoilsports?
LORD DARKAR: To the heroes! After them!
MEGAMO: Ready?
KING CANDY: Eternal Friday the 13th is in our hands!
PRINCE CHARMING: Conquer they!!!!!!!!!!
ALL VILLAINS: Conquer they!
SORA: Attack, heroes!
A climatic battle ensued between Prince Charming and Sora, Evil and Good respectively. The heroes are freed. Until...
Isaac (from Golden Sun) escapes from the kitchen.
ISAAC: Here! Use the lamp!
BUCKY O'HARE: The lamp can hold him forever!
LORAX: Do it now, Sora!
VALJEAN: Hurry up!
SUPERMAN: Use it...
SORA AND ALVIN: Prince Charming of Burajira! You're done for!
ALL VILLAINS: The lamp-...!
SHERE KHAN: Retreat!
COBRA COMMANDER: Retreat!
The villains flee.
PRINCE CHARMING: What?! Nooooooooooo-!
SORA AND ALVIN: I Got him!
FINN MCMISSLE: Well done, Sora.
SORA: I have the power!
BUMBLEBEE (As Sly cooper): I'm in, I've Rested Long Enough.
ETHAN HUNT: You got him, Sora!
The entire club turns back to normal the next day.
OPTIMUS: Well done on defeating Prince Charming, Sora.
SORA: Well, thanks, Optimus. I guess the House of Mouse is safe now.
BUMBLEBEE (As Spiderman): Good riddance.
BELLE: Thank you, Sora!
ARIEL: You did it! I'm very proud of you!
BRAVE LITTLE TOASTER: Well done!
SORA: And who's that behind me?
ISAAC: The villains are taking over Townsville!!
SORA: Yeah, whatever.