This Page is currently Under Construction.
This article is currently
Under Construction.
Therefore, please excuse its informal appearance while it's being worked on. We hope to have it completed as soon as possible.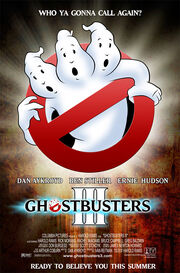 Ghostbusters 3 (Also known as Ghostbusters III) is a upcoming 2016 American supernatural horror-comedy film produced and directed by Ivan Reitman. It is the sequel to 1984 film, Ghostbusters, and 1989 film, Ghostbusters II.
Plot
26 years later, The Ghosts are back...
Cast
Ad blocker interference detected!
Wikia is a free-to-use site that makes money from advertising. We have a modified experience for viewers using ad blockers

Wikia is not accessible if you've made further modifications. Remove the custom ad blocker rule(s) and the page will load as expected.