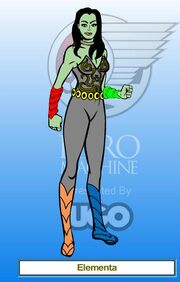 Elementa is the name of the third member of the team The Light Force in Heroes Alliance Forever. In the show, she is voiced by Tara Strong. And in the Heroes Alliance Triumphant movie Elementa is voiced by Scarlett Johannson.
PROFILE:
Name: Elementa
Alter Ego: unknown
Special powers: Can summon the elements of fire, water, earth, and air to use them as weapons, and she is a skilled martial-artist.
Ad blocker interference detected!
Wikia is a free-to-use site that makes money from advertising. We have a modified experience for viewers using ad blockers

Wikia is not accessible if you've made further modifications. Remove the custom ad blocker rule(s) and the page will load as expected.