WARNING:

This article is a non-fanon page. Non-fanon means if it is not fanmade or it is also canon.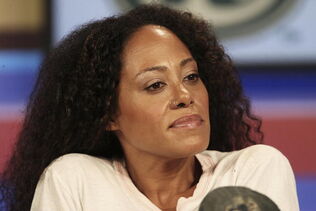 Cree Summer Francks (born July 7, 1969), best known as Cree Summer, is an American-Canadian comedian, actress, voice actress and singer.
She is best known for her role as college student Winifred "Freddie" Brooks on the NBC sitcom A Different World. As a voice actress Summer provided the voices for Penny in Inspector Gadget during Season 1, Elmyra Duff in Tiny Toon Adventures and Pinky, Elmyra & the Brain, Susie Carmichael on Rugrats and All Grown Up, Princess Kida in Atlantis: The Lost Empire, Valerie Gray in Danny Phantom, Pilgrim and Kermit's Mom in Kermit's Swamp Years, Foxxy Love in Drawn Together, Numbuh 5 in Codename: Kids Next Door, Magma in X-Men Legends, Yvonne and Gordon in Mrs. Munger's Class, and Cleo the Poodle in Clifford the Big Red Dog.
Voices
Known for:
Penny Gadget in Inspector Gadget
Cleo in Clifford the Big Red Dog
Tiff in My Life as a Teenage Robot
Valerie Gray in Danny Phantom
Aka Pella in Histeria
Ad blocker interference detected!
Wikia is a free-to-use site that makes money from advertising. We have a modified experience for viewers using ad blockers

Wikia is not accessible if you've made further modifications. Remove the custom ad blocker rule(s) and the page will load as expected.