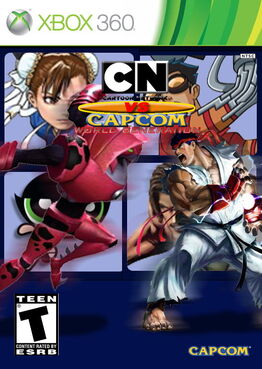 Cartoon Network vs Capcom: World Generation
is Crossover fighting game developed by Capcom and Cartoon Network Interactive, and this is a spin-off of Marvel vs Capcom franchise. It also features Capcom's very own popular characters, and there's more characters from TV series/movies of Cartoon Network. This one's going to be the upcoming installment of the Vs. series franchise from Capcom. It is set for releases on both for PlayStation 4, Xbox One and PC.
Gameplay
Same gameplay as appeared in the Marvel Vs. Capcom 3 video game franchise. This game also features the same old tag-based team features as it was previously use in the last installment of the video game just like Marvel vs Capcom series, where each player chooses three characters that can be swapped at any point during a match, and utilizes an order selection called "Evolved Vs. Fighting System", any system that's a modified version of earlier systems (let's mention Playstation 2, X-Box, & the original classic Sega Dreamcast just to name a few) seen in the Marvel vs. Capcom, & Capcom vs. SNK games & the third installment sequel to Marvel vs Capcom 3, and it is akin to Cartoon Network FusionFall. The aim of the game is to use various attacks to drain your opponent's health bars and defeat all of their characters or have the most cumulative health when time runs out. It's the first game in the franchise to feature three-dimensional character models what you see in Street Fighter 4 franchise always the same as opposed to the same old two-dimensional sprites, though gameplay remains restricted to two-dimensions, allowing characters to move only backward, forward, or straight up into the air. There's this one final boss in the game reveals Nelo GrandAngelo (more similar to Galactus as the final boss in Marvel vs Capcom 3).
Playable Characters
Downloadable Content Characters/Cheat Code for Wii Characters (DLC)/(Cheat)
Ultimate Cartoon Network vs Capcom
Non-Playable Characters
Final Boss
Cameo
Music
The game's song will be "Bite My Tongue" by You Me at Six feating Oli Sykes from Bring Me The Horizon
Ad blocker interference detected!
Wikia is a free-to-use site that makes money from advertising. We have a modified experience for viewers using ad blockers

Wikia is not accessible if you've made further modifications. Remove the custom ad blocker rule(s) and the page will load as expected.