By Golly Comics: Edit
By Golly Comics is created by Jason Tierney of Ottawa, Ontario, Canada.
Edit
In summer 2000, Jason created "By Golly Comics" .
Edit
Jason meet talent Artist name Mike Valiquette who at time as work at
Edit
Dynomight Cartoons in Ottawa. November 2001, Jason Tierney and Mike Valiquette signed a partnership to improved By Golly Comics and other By
Edit
Golly ideas like future By Golly, The Animated Series.
Edit
Unfortunately, thing came up and Mike had put By Golly Comics on hold until he straight out some issues he was dealing with. While Mike was away, Jason was in charge of By Golly Comics and produce few good comic strip which lot people like.
Edit
One of my favorite By Golly Comic Strip, in this comic strip.
Edit
Jason was visiting his family Dr. McBawk for his regular yearly check-up.
Edit
== At end of this comic strip, Dr.McBawk ask Jason how is pay for his visit and Jason funny and very cute answer was send bill to Prime Minster Wesley Turkey.

==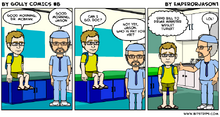 2015, Jason and his talent team which made of Jason Tierney, Tim McCarthy, Rhonda Wilson and Story Mouse. Edit
To Contact Jason Tierney, please contact Jason Tierney's Talent Agent at address below:
Edit
Tim McCarthy
Edit
== Suite 431, 532 Montreal Road.
Ottawa, Ontario 
K1N 4R4 ==
For Talent Agent: tim@bygollycomics.com
Edit
Mr.McCarthy will answer all mail request on behalf of Mr. Tierney.
Edit
By Golly, The Animated Series:
Edit
My Production staff are in discussion about how Season 1 of By Golly, The Animated Series may look like so stay tune everyone. Edit
Who is Jason Tierney?
Edit
Jason Tierney was born on Sept. 22, 1979 in Ottawa, Canada. Edit
Jason is brain behind By Golly Series and By Golly Comics. Edit
He owns a 5 year male cat name Mario.
Edit
Mr. Tierney is huge support of World Vision.
Edit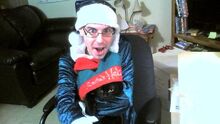 Ad blocker interference detected!
Wikia is a free-to-use site that makes money from advertising. We have a modified experience for viewers using ad blockers

Wikia is not accessible if you've made further modifications. Remove the custom ad blocker rule(s) and the page will load as expected.