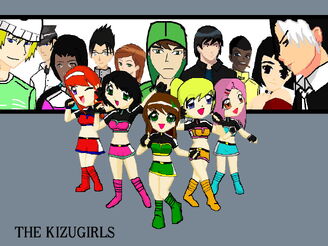 The Begining of Kizugirls before Ben 10 Voltex/Ultimate Alien.
Plot
In the year 2007,the City of Gardengrows, Before they met Ben and his friends. At all starts with Sophie. When She was 12. She was a beautiful, but eccentric and headstrong. with her friends to stop the Bad guys and save the world.
Characters
Main Characters
The KizuGirls

Sophie - Kizu Green
Emma - Kizu Pink
Stacy - Kizu Yellow
Terra - Kizu Red
Angelina - Kizu Blue
Ms.Tokonaka - Kizu White,Mentor
Recurring characters
Minor characters
Episodes
Begin as training
Picture day
What the Knight!
Spot brat
Dream boy
Shopping attack
True Rivals
Tennis battle
TBA
TBA
TBA
TBA
TBA
TBA
TBA
TBA
TBA
TBA
TBA
Christmas hanaboo
Let's do it together part 1
Let's do it together part 2
Bye bye The Kizugirls and hello back!
The End
Ad blocker interference detected!
Wikia is a free-to-use site that makes money from advertising. We have a modified experience for viewers using ad blockers

Wikia is not accessible if you've made further modifications. Remove the custom ad blocker rule(s) and the page will load as expected.