Beast Wars: Transformers (2015 Series)
Talk

1
Share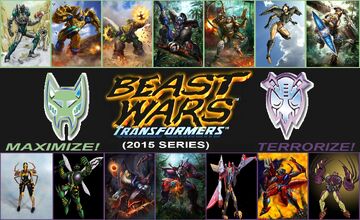 Beast Wars: Transformers (2015) is a rebooting series aired on Discovery Family and based on the Transformers series.
Characters
Edit
Main Article: List of the Beast Wars: Transformers (2015 Series) Characters
Season 1
Dolphinus, Guardian of Delphinus (Valentine's Day Special)
The Flyfight Instant Immobilizer (Saint Patrick's Day Special)
Stampy's Operational Superbotss S.O.S.! (Easter Special)
Bonecrusher's Defeat in America

(Independence Day Special)
Season 2
Edit
Ad blocker interference detected!
Wikia is a free-to-use site that makes money from advertising. We have a modified experience for viewers using ad blockers

Wikia is not accessible if you've made further modifications. Remove the custom ad blocker rule(s) and the page will load as expected.