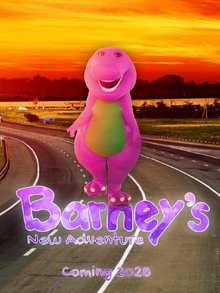 Barney's New Adventure is an upcoming musical adventure film based on the childern's television series Barney & Friends, featuring the characters Barney the Dinosaur, Baby Bop, BJ, and Riff. The film will be directed by James Bobin, written by Burny Mattinson and Nicholas Stoller, produced by Sherly Leach and music by James Horner (score), Richard M. Sherman (songs) and Randy Newman (songs), Even do the original show is aimed towards children, the film is aimed towards not only children but to adults and teens who has a fond memory of they're childhood. It will be released by Universal Pictures in United States and Canada.
Coming soon in 2010's or 2020's.
Synopsis
(Any ideas about the synopsis)
Plot
(Any ideas about the plot)
Chapter 1
Chapter 2
Chapter 3
Chapter 4
Chapter 5
Chapter 6
Chapter 7
Chapter 8
Chapter 9
Chapter 10
Chapter 11
Chapter 12
Final Chapter
Cast/Characters
Barney and his Friends
Noel MacNeal (Billy Barkhurst, voice) as Barney
Reba Buhr (Julie Johnson, voice) as Baby Bop
Idina Menzel (Patty Wirtz, voice) as BJ
Ariel Winter (Michaela Dietz, voice) as Riff
Barry Pearl as Professor Erasmus Q. Tinkerputt
Todd Duffy as Scooter McNutty
Brice Armstrong as Miss Etta Kette
Main Cast/Characters
(Any ideas who's gonna play for kids)
(?) as Zack: A 12-year old city boy who tries to act old for his age and claims he's to old for "kids stuff" even do he still is a kid.
(?) as Bridget: A 14-year old girl, She's Zack's best friend and love interest.
(?) as Bobby: A chubby 11-year old boy. He is Zack's second best friend and he seems to have an unstable home life.
(?) as Leo: A streetwise 13-year old boy. He is one of Zack's best friends.
(?) as Francis: An excitable and intelligent 11-year old boy who suffers from anxiety, an inferiority complex. He is the most smartest and most insecure kid in Zack's group.
(?) as Emily: An adventurous, imaginative, tag-along 5-year old girl. she is Zack's little sister, she follows Zack where ever he goes. She is the one who found the Barney doll in a box in the attic.
Sean Connery as Henry Smith: He is Zack and Emily's grandfather. He is a very moody and hard-working figure, He and his wife live on a farm.
Julie Andrews as Judy Smith: She is Zack and Emily's grandmother. She is much calmer and more understanding than her husband is.
The Villains
John Goodman as Mr. Richfield: A tough, evil, greedy, corrupt, cigar-smoking magnate who desires to find the document to the farmland and destroy it in-order to destroy the farmland.
Wallace Shawn as Edgar: Richfield's servant, Edgar is always being bossed around by Richfield. Ricfield's Minions tease him by locking him up in a closet tied, hooking his shirt on the wall and throwing darts at (almost) him, Even do he is creditied as a villain he is more of a nice guy to be around with and he's also goofy and very kind, he always puts Richfield's wishes on his to-do list even if he dosen't like some of his plans.
Michael Shannon, Tony Nikolakopoulos, Reg E. Cathey, Nils Allen Stewart, and Garret T. Sato as Richfield's Minions: a gang of rough and tough old goons.
Other Cast/Characters
Phill Lewis as Mr. Mayor: The Mayor of Springfield, He is uptight and serious, the character bears similarties to Mr. Moseby from The Suite Life of Zack and Cody and The Suite Life on Deck.
Amy Adams as Emma (aka Mom): Zack and Emily's mother
Ben Stiller as Tod (aka Dad): Zack and Emily's father
Michael Wallis as The Sheriff of Springfield:
Brian Stepanek as Farmer Brian: Henry and Julie's wacky neighbor and Frank's assistant.
James Earl Jones as Farmer Frank: Another one of Henry and Julie's neighbors and Brian's boss.
Jack Black as Random Guy:
Cameo Appearances
Selena Gomez
Demi Lovato
Tory Green
Trevor Morgan
Kyla Pratt
Madison Pettis
Songs
All of the songs in the film are done by Richard M. Sherman and Randy Newman.
Soundtrack
(Any ideas about the soundtrack)
Productions
(Any ideas about the productions)
Trivia
(Any ideas about the trivia)
Rating
Rated G.
Gallery
(Any ideas to draw the poster)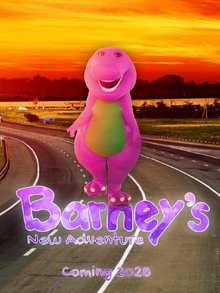 Ad blocker interference detected!
Wikia is a free-to-use site that makes money from advertising. We have a modified experience for viewers using ad blockers

Wikia is not accessible if you've made further modifications. Remove the custom ad blocker rule(s) and the page will load as expected.